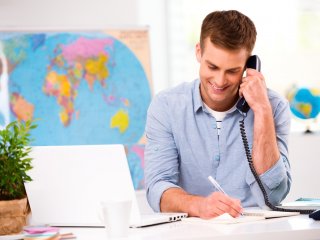 Description
Objectives
Outline
Materials
Certification
System Requirements
Watch a Demo
Turn your love of travel into a career with our Travel Agent Specialist with Bookkeeping Training. 
Travel Agent and Tourism
Are you interested in learning more about a travel agent career? Would you like to better understand travel and tourism jobs? Our Travel Agent and Tourism course can help you learn more about the daily life of a travel agent and take the first step in getting quality training.
Travel agent career professionals consistently help people plan family vacations, corporate trips, cruises, international travel, and specialty tours such as adventure vacations. Travel agents generally have access to important information regarding fares and discounts, and are knowledgeable about particular geographic locations. Overall, a travel agent career professional can help consumers plan the most appropriate travel arrangements for their needs.
Our travel agent course provides training on the essentials of travel and tourism, from air transportation to the cruise industry and more. Let our course be your first step in getting one of many interesting travel and tourism jobs such as working for a corporation, online travel agency, or even working from home!
Prerequisite(s): None
Travel Agent Geography
A professional travel agent must match the traveler with the right destination and services this course helps you learn how to do that exact thing. Travel Agent Geography approaches geography from the travel industry perspective and is designed not just for travel agents but for all travel professionals. Among the highlights are detailed information on attractions, climate, lodging, and cultural patterns. Sample itineraries and profiles of typical visitors to each destination are also included in this course.
Prerequisite(s): None
Professional Bookkeeping
Are you well organized? Do you like working with official papers and enjoy seeing a set of figures add up properly? If so, Professional Bookkeeping could be the career for you! Every business, no matter how large or small, must "keep books" and as organizations increase and financial regulations become stricter, there is a greater demand for Professional Bookkeepers. Our Professional Bookkeeping course will cover the multitude of areas that a bookkeeper may address during the work day - how to handle payroll, purchases, billings, cash, fixed assets, inventory, and create financial statements.
Prerequisite: None
After completing this course, you should be able to:
Type quickly and correctly
Identify the transcription format for civil litigation
Identify the transcription format for probates
Identify the transcription format for family law
Identify the transcription format for legal instruments
Travel Agent and Tourism
After completing this course, you should be able to:
Identify basics of the travel industry and how to deliver quality tourism services
Recall strategies for coordinating transportation
Recognize steps for coordinating and booking accommodations, attractions, and destinations
Define the elements of potential economic, political, environmental, and social impacts
Recall methods for communicating with clients and marketing and selling to the public
Travel Agent Geography
After completing this course, you should be able to:
Identify strategies for selling geographical destinations
Recall features of North and South American destinations and more
Identify features of European and Asian destinations and more
Recognize climate patterns, culture, and typical visitor types for destinations around the world
List the steps to start your own travel business
Professional Bookkeeping
After completing this course, you should be able to:
Identify the daily tasks and procedures involved with bookkeeping
Define inventory systems and the steps needed to issue financial statements
Recall the methods for managing credits and collections
List the steps involved in accounts payable and recordkeeping
Describe the fundamentals of mastering internal controls and fraud prevention
Travel Agent and Tourism
Travel Agent and Tourism Module 1
The Travel Industry and Marketing
Services and Tourism
What is Tourism?
History of Travel and Tourism
Maps
Tourism's Challenges and Opportunities
Foundations for Understanding Tourist Motivations
Specialized Tourist Segments
Delivering High Quality Service
Travel Agent and Tourism Module 2
Delivering Quality Tourism Services
Quality
Service Encounters
Quality and Customer Satisfaction
Anticipating and Meeting Guest Needs
Serving Traveler Needs
Why Use Intermediaries?
One-Level Distribution Channels
Two and Three Level Distribution Channels
Selling
Travel Agent and Tourism Module 3
Technology and Transportation
Improving Operating Efficiency and Effectiveness
Changing Communication and Distribution Channels
Improving Profitability
Point-of-Sale Systems
Management Information Systems
Surface Transportation
Scenic Railroads
Highways and Byways
Airlines
Travel Agent and Tourism Module 4
Accommodations and Food/Beverage
Lodging
Classifications and Rating Systems
Franchising
Management Contracts
Major Influences on the Development of Food and Beverage
Building a Culinary Heritage
Building Profitable Operations
Beverage Operations
Travel Agent and Tourism Module 5
Attractions and Destinations
Heritage Attractions
Commercial Attractions
Gaming
Shopping
Live Entertainment
Classifying Destinations
Sporting Activities
Year-Round Playgrounds
Travel Agent and Tourism Module 6
Economic, Political, Environmental, and Social Impacts
Economic Growth and Vitality
Multiplier Concept
Tourism and Politics
Public/Private Organizations
Tourism Planning
Social and Cultural Benefits of Tourism
Using Culture to Attract Tourisms
Unintended Consequences of Tourism
Travel Agent and Tourism Module 7
Sustaining Tourism's Benefits
When is Tourism Too Much of a Good Thing?
What's in a Name?
Establishing Standards
Going Green
Future of Sustainability
The Shape of Tourism Markets
Emerging Tourism Markets
Transportation Transformations
Service Enhancements
Tourism Research
**Outlines are subject to change, as courses and materials are updated.**
Travel Agent Geography
Travel Agent Geography Module 1
Geography and Tourism
Elements of Geography
The Influence of Tourism
Place and Space
The Opportunity
New England
Mid-Atlantic
South-Atlantic
Travel Agent Geography Module 2
Geography of the United States
East South Central
East North Central
West South Central
West North Central
Travel Agent Geography Module 3
United States and Canada
Mountain
Pacific
Canada
Canadian Territories
Travel Agent Geography Module 4
Geography of Mexico and Caribbean
Mexico and Central America
Greater Antilles
Lesser Antilles
Other Windward Islands
Travel Agent Geography Module 5
Geography of Caribbean and South America
Barbados
Trinidad and Tobago
The Atlantic Islands
The Andes Countries
Middle-Latitude South America
Brazil and the Guyanas
Travel Agent Geography Module 6
Geography of Europe
Western Europe
Northern Europe
Southern Europe
Central Europe and Balkan States
Travel Agent Geography Module 7
Geography of Russia and the Middle East
Russia and its Neighbors
The Central Asian Countries Created from the Former Soviet Union
Middle East
The Arabian Peninsula
Travel Agent Geography Module 8
Geography of Africa
North Africa
West Africa
East Africa
Southern Africa
Travel Agent Geography Module 9
Geography of Africa and Asia
Central and Interior Africa
East Asia
South Asia
Southeast Asia
Travel Agent Geography Module 10
Geography of Asia, Australia, New Zealand and the Islands of South Pacific
Indochina-Vietnam, Cambodia, and Laos
Polynesia
Melanesia, Micronesia, and Other Pacific Islands
New Zealand and Australia
Travel Agent Geography Module 11
Start a Travel Business
The Travel Agent's World
Travel Business Risks
Home-based Travel Agents
Defining Your Market
Choosing Your Clients
Research Your Market
Sizing Up the Competition
Laying Your Foundation
Start Up Costs
Travel Specific Software
Price Your Time & Package
All About Tours & Cruises
The Adventure Travel
Senior Travel
Advertising & Promotion
Controlling Your Finances
**Outlines are subject to change, as courses and materials are updated.**
Professional Bookkeeping
Professional Bookkeeping Module 1
Setting Up Your Accounting System
Bookkeeping and Accounting Basics
Chart of Accounts
Debits vs. Credits
Double-Entry Accounting
Using Journal Entries and Ledgers
Choosing an Accounting Method
Cash and Accrual Basis
Professional Bookkeeping Module 2
Recording Accounting Transactions
Business Transactions
Managing Bookkeeping and Accounting System
End-of-Period Procedures
Tracking Purchases
Tracking Inventory
Collecting on Cash Sales
Processing Employee Payroll and Benefits
Taxing Payrolls
Professional Bookkeeping Module 3
Adjusting and Closing Entries
Depreciating Your Assets
Paying and Collecting Interest
Proving Out the Cash
Closing Cash Journals
Reconciling Accounts and Closing Journal Entries
Checking Your Accuracy
Working with Trial Balance
Developing a Financial Statement Worksheet
Adjusting the Books
Professional Bookkeeping Module 4
Preparing Income Statements and Balance Sheets
Origins of Accounting Standards
Understanding the Nature of Profit
Preparing Income Statements Related to Profit
Assessing the Balance Sheet's Asset Section
Accounting for Liabilities
Keeping Current Liabilities Under Control
Capital Stock
Coupling the Income Statement and Balance Sheet
Professional Bookkeeping Module 5
Reporting on Financial Statements
Clarifying the Values of Assets in Balance Sheets
Introducing Business Valuation
Cash Flows and Changes in Equity
Difference Between Cash and Profit
Analyzing Financial Statements
Explanatory Notes and Disclosures
Reports to Shareholders
Professional Bookkeeping Module 6
Planning and Budgeting for Business
Incorporating Your Business
Choosing a Legal Structure for a Business
Outlining a Basic Business Plan
Budgeting Basics
Budgeting with Cash or Accrual Accounting
Long-Term Obligations
Professional Bookkeeping Module 7
Business Decisions
Estimating Costs with Job Costing
Performing Activity-Based Costing
Examining Contribution Margins
Accounting for Change with Variance Analysis
Smart Pricing Decisions
Financial Formulas
Professional Bookkeeping Module 8
Cash and Purchasing
Identifying Costs and Matching Costs with Revenue
Satisfying the Matching Principle
Inventory Cost Flow Assumptions
Inventory Types
Incremental and Opportunity Costs
Interpreting Financial Results
Reviewing Profit and Earnings
Maximizing Business Value
Professional Bookkeeping Module 9
Auditing and Detecting Financial Fraud
Sarbanes-Oxley Regulation
Preventing Cash Losses from Embezzlement and Fraud
Assessing Audit Risk
Collecting and Documenting Audit Evidence
Auditing a Client's Internal Controls
Five Components of Internal Controls
Common Fraud Schemes
Financial Statement Fraud
**Outlines are subject to change, as courses and materials are updated.**
Ed4Online is committed to being both environmentally conscious and making it easier for you to study! We're making your education mobile! All of our textbooks are now provided as eTextbooks*. You can access them on your laptop, tablet, or mobile device and can study anytime, anywhere.
The move away from physical books to eTextbooks means you get the latest, most up-to-date version available. This also makes your training more accessible, so you can study anywhere you have your phone or tablet. The best part is that all materials are included in your training cost so there are NO extra fees for books!**
*A few courses still have physical materials.
 
Travel Agent and Tourism
Upon successful completion of our Travel and Tourism course, students will be prepared for an entry-level position as a travel agent in a travel agency and will be prepared to take the National Travel Agent Proficiency (TAP) Test. The TAP Test is a basic competency test that measures the entry-level knowledge of travel professionals within all aspects of the travel industry. The test was developed by The Travel Institute and the American Society of Travel Agents (ASTA) to provide a national standard of entry-level proficiency for the travel industry.
Professional Bookkeeping
Upon successful completion of our Professional Bookkeeping course, students will be prepared, in part, to sit for the AIPB Certified Bookkeeper exam. Candidates must also submit proof of at least two years of full time or 3,000 hours of part-time work experience before or after taking the exam. Candidates have 3 years from the exam date to fulfill this requirement.
** Certification exams are not included in the cost of the course.**
Internet Connection
Broadband or High-Speed - DSL, Cable, and Wireless Connections
*Dial-Up internet connections will result in a diminished online experience. Classroom pages may load slowly and viewing large audio and video files may not be possible.
Hardware Requirements
Processor - 2GHz Processor or Higher
Memory - 1 GB RAM Minimum Recommended
PC Software Requirements
Operating Systems - Windows 7 or higher
Microsoft Office 2013 or higher. Also, you could use a general Word Processing application to save and open Microsoft Office formats (.doc, .docx, .xls, .xlsx, .ppt, .pptx)
Internet Browsers - Google Chrome is highly recommended

Cookies MUST be enabled
Pop-ups MUST be allowed (Pop-up Blocker disabled)

The Kindle Reader App or VitalSource Bookshelf App are needed for many of our courses (No special equipment needed. This can be downloaded for FREE onto your computer.)
PowerPoint Viewer (if you do not have PowerPoint)
QuickTime, Windows Media Player &/or Real Player
MAC Software Requirements
Operating Systems - Mac OS x 10 or higher with Windows
Mac office programs or a Word Processing application to save and open Microsoft Office formats (.doc, .docx, .xls, .xlsx, .ppt, .pptx)
Internet Browsers- Google Chrome is highly recommended

Cookies MUST be enabled
Pop-ups MUST be allowed (Pop-up Blocker disabled)

The Kindle Reader App or VitalSource Bookshelf App are needed for many of our courses (No special equipment needed. This can be downloaded for FREE onto your computer.)
PowerPoint Viewer (if you do not have PowerPoint)
Adobe PDF Reader
Apple QuickTime Media Player