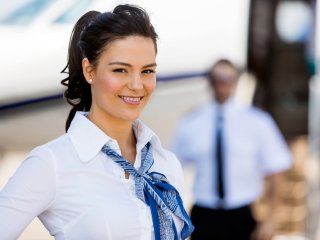 Description
Objectives
Outline
Materials
Certification
System Requirements
Watch a Demo
Are you interested in learning more about a travel agent career? Would you like to better understand travel and tourism jobs? Our Travel Agent and Tourism course can help you learn more about the daily life of a travel agent and take the first step in getting quality training.
Travel agent career professionals consistently help people plan family vacations, corporate trips, cruises, international travel, and specialty tours such as adventure vacations. Travel agents generally have access to important information regarding fares and discounts, and are knowledgeable about particular geographic locations. Overall, a travel agent career professional can help consumers plan the most appropriate travel arrangements for their needs.
Our travel agent course provides training on the essentials of travel and tourism, from air transportation to the cruise industry and more. Let our course be your first step in getting one of many interesting travel and tourism jobs such as working for a corporation, online travel agency, or even working from home!
Prerequisite(s): None
After completing this course, you should be able to:
Identify basics of the travel industry and how to deliver quality tourism services
Recall strategies for coordinating transportation
Recognize steps for coordinating and booking accommodations, attractions, and destinations
Define the elements of potential economic, political, environmental, and social impacts
Recall methods for communicating with clients and marketing and selling to the public
Travel Agent and Tourism Module 1
The Travel Industry and Marketing
Services and Tourism
What is Tourism?
History of Travel and Tourism
Maps
Tourism's Challenges and Opportunities
Foundations for Understanding Tourist Motivations
Specialized Tourist Segments
Delivering High Quality Service
Travel Agent and Tourism Module 2
Delivering Quality Tourism Services
Quality
Service Encounters
Quality and Customer Satisfaction
Anticipating and Meeting Guest Needs
Serving Traveler Needs
Why Use Intermediaries?
One-Level Distribution Channels
Two and Three Level Distribution Channels
Selling
Travel Agent and Tourism Module 3
Technology and Transportation
Improving Operating Efficiency and Effectiveness
Changing Communication and Distribution Channels
Improving Profitability
Point-of-Sale Systems
Management Information Systems
Surface Transportation
Scenic Railroads
Highways and Byways
Airlines
Travel Agent and Tourism Module 4
Accommodations and Food/Beverage
Lodging
Classifications and Rating Systems
Franchising
Management Contracts
Major Influences on the Development of Food and Beverage
Building a Culinary Heritage
Building Profitable Operations
Beverage Operations
Travel Agent and Tourism Module 5
Attractions and Destinations
Heritage Attractions
Commercial Attractions
Gaming
Shopping
Live Entertainment
Classifying Destinations
Sporting Activities
Year-Round Playgrounds
Travel Agent and Tourism Module 6
Economic, Political, Environmental, and Social Impacts
Economic Growth and Vitality
Multiplier Concept
Tourism and Politics
Public/Private Organizations
Tourism Planning
Social and Cultural Benefits of Tourism
Using Culture to Attract Tourisms
Unintended Consequences of Tourism
Travel Agent and Tourism Module 7
Sustaining Tourism's Benefits
When is Tourism Too Much of a Good Thing?
What's in a Name?
Establishing Standards
Going Green
Future of Sustainability
The Shape of Tourism Markets
Emerging Tourism Markets
Transportation Transformations
Service Enhancements
Tourism Research


**

Outlines are subject to change, as courses and materials are updated.

**
Ed4Career is committed to being both environmentally conscious and making it easier for you to study! We're making your education mobile! All of our textbooks are now provided as eTextbooks. You can access them on your laptop, tablet, or mobile device and can study anytime, anywhere.
The move away from physical books to eTextbooks means you get the latest, most up-to-date version available. This also makes your training more accessible, so you can study anywhere you have your phone or tablet. The best part is that all materials are included in your training cost so there are NO extra fees for books!
Upon successful completion of our Travel and Tourism course, students will be prepared for an entry-level position as a travel agent in a travel agency and will be prepared to take the National Travel Agent Proficiency (TAP) Test. The TAP Test is a basic competency test that measures the entry-level knowledge of travel professionals within all aspects of the travel industry. The test was developed by The Travel Institute and the American Society of Travel Agents (ASTA) to provide a national standard of entry-level proficiency for the travel industry.
Internet Connection
Broadband or High-Speed - DSL, Cable, and Wireless Connections
*Dial-Up internet connections will result in a diminished online experience. Classroom pages may load slowly and viewing large audio and video files may not be possible.
Hardware Requirements
Processor - 2GHz Processor or Higher
Memory - 1 GB RAM Minimum Recommended
PC Software Requirements
Operating Systems - Windows 7 or higher
Microsoft Office 2013 or higher. Also, you could use a general Word Processing application to save and open Microsoft Office formats (.doc, .docx, .xls, .xlsx, .ppt, .pptx)
Internet Browsers - Google Chrome is highly recommended


Cookies MUST be enabled
Pop-ups MUST be allowed (Pop-up Blocker disabled)

The Kindle Reader App or VitalSource Bookshelf App are needed for many of our courses (No special equipment needed. This can be downloaded for FREE onto your computer.)
PowerPoint Viewer (if you do not have PowerPoint)
QuickTime, Windows Media Player &/or Real Player
MAC Software Requirements
Operating Systems - Mac OS x 10 or higher with Windows
Mac office programs or a Word Processing application to save and open Microsoft Office formats (.doc, .docx, .xls, .xlsx, .ppt, .pptx)
Internet Browsers- Google Chrome is highly recommended


Cookies MUST be enabled
Pop-ups MUST be allowed (Pop-up Blocker disabled)

The Kindle Reader App or VitalSource Bookshelf App are needed for many of our courses (No special equipment needed. This can be downloaded for FREE onto your computer.)
PowerPoint Viewer (if you do not have PowerPoint)
Adobe PDF Reader
Apple QuickTime Media Player