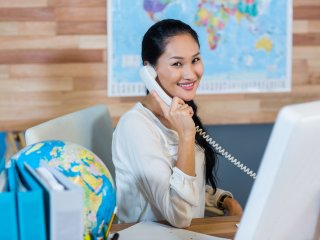 Category:
Hospitality & Travel, CCTP Programs
Course Type:
Mentor Supported
Self-Study
Instructor Led - 4 Weeks Long
Description
Objectives
Outline
Materials
Certification
System Requirements
Watch a Demo
Our Complete Career Training Programs (CCTP) include both the training you need and the skills you will want in order to be prepared for your new career. We have taken online career programs to a whole new level by bundling our Career Training with Personal Enrichment courses to ensure you have a diversified learning experience.
Our mentor-supported career courses focus on the industry standards that prepare you for your chosen career or certification. You will also get our smaller, four-week long, instructor-led personal enrichment courses to further your employment training.
Sign up today for this all-inclusive career training program!
Travel Agent and Tourism
Are you interested in learning more about a travel agent career? Would you like to better understand travel and tourism jobs? Our Travel Agent and Tourism course can help you learn more about the daily life of a travel agent and take the first step in getting quality training.
Travel agent career professionals consistently help people plan family vacations, corporate trips, cruises, international travel, and specialty tours such as adventure vacations. Travel agents generally have access to important information regarding fares and discounts, and are knowledgeable about particular geographic locations. Overall, a travel agent career professional can help consumers plan the most appropriate travel arrangements for their needs.
Our travel agent course provides training on the essentials of travel and tourism, from air transportation to the cruise industry and more. Let our course be your first step in getting one of many interesting travel and tourism jobs such as working for a corporation, online travel agency, or even working from home!
Prerequisite(s): None
Travel Agent Geography
A professional travel agent must match the traveler with the right destination and services this course helps you learn how to do that exact thing. Travel Agent Geography approaches geography from the travel industry perspective and is designed not just for travel agents but for all travel professionals. Among the highlights are detailed information on attractions, climate, lodging, and cultural patterns. Sample itineraries and profiles of typical visitors to each destination are also included in this course.
Prerequisite(s): None
Start Your Own Business
Have you ever eaten a Mrs. Fields cookie? Used a MacBook? Listed to a podcast? Entrepreneurs brought these products to your world. People that start their own businesses and work for themselves are called entrepreneurs. For an entrepreneur the sky is the limit as far as earnings and potential success. An entrepreneur is someone who has recognized an opportunity to start a business that other people may not have noticed. Entrepreneurs can shape and create an opportunity where others see little or nothing -- or see it too early or too late. Our Start Your Own Business course will help you create the business you want. Throughout this course you will be working on your business plan and creating a quick comprehensive overview of the elements you want in your new business.
Prerequisite: None
Personal Excellence
As a person with unique gifts to offer, it is your responsibility to use your talents wisely and it is your right to enjoy yourself while doing so. In this class we will learn what it takes to develop career-enhancing skills that include: goal setting, time management, and personal organization. You will learn the crucial steps it takes to improve your creative abilities, gain confidence and minimize conflict in your life. Just as a successful business requires a mission and a plan, so does a fulfilling life.
Better Interpersonal Communication
Interpersonal Communication is a very important skill that is needed to develop and maintain personal and professional relationships. Just because you are talking does not mean you are communicating. This course will take you through the steps involved in understanding the importance of interpersonal communication and the effect on our daily interactions.
Customer Service Survival Skills
In our Customer Service Survival Skills course, students will learn how to get to the heart of customer service; a challenging but not impossible achievement. Customers expect quality service and in return will provide loyalty. Businesses today understand that customer service loyalty contributes to the success and growth of a business. This is why it is important understand the importance in learning, developing and improving the skills needed to communicate effectively in a professional manner with customers.
Travel Agent and Tourism
After completing this course, you should be able to:
Identify basics of the travel industry and how to deliver quality tourism services
Recall strategies for coordinating transportation
Recognize steps for coordinating and booking accommodations, attractions, and destinations
Define the elements of potential economic, political, environmental, and social impacts
Recall methods for communicating with clients and marketing and selling to the public
Travel Agent Geography
After completing this course, you should be able to:
Identify strategies for selling geographical destinations
Recall features of North and South American destinations and more
Identify features of European and Asian destinations and more
Recognize climate patterns, culture, and typical visitor types for destinations around the world
List the steps to start your own travel business
Start Your Own Business
After completing this course, you should be able to:
Define entrepreneurship
List the steps for developing a business plan
Recall methods for marketing your business
Recognize the concepts behind financing strategies
Differentiate between potential strategies for growing your business
Personal Excellence
After completing this course, you should be able to:
Define what a strategic plan is and why you need one
Recall potential success factors in life
Recognize how to implement goals and follow through on accomplishing them
Identify how to select and implement successful strategies
Better Interpersonal Communication
After completion of this course you should be able to:
Recognize the basics and importance of verbal and nonverbal communication
Identify steps associated with the learning process and how to improve your listening skills
Recall types of personality styles and the perception process
List styles of conflict and what contributes to it
Customer Service Survival Skills
After completing this course, you should be able to:
Recognize the tools for defusing crisis in customer service
Identify techniques and actions that will lead to effective management
Recall how to respond when a customer is in a crisis
List the different tools to use to successfully deal with customer frustration
Travel Agent and Tourism
Travel Agent and Tourism Module 1
The Travel Industry and Marketing
Services and Tourism
What is Tourism?
History of Travel and Tourism
Maps
Tourism's Challenges and Opportunities
Foundations for Understanding Tourist Motivations
Specialized Tourist Segments
Delivering High Quality Service
Travel Agent and Tourism Module 2
Delivering Quality Tourism Services
Quality
Service Encounters
Quality and Customer Satisfaction
Anticipating and Meeting Guest Needs
Serving Traveler Needs
Why Use Intermediaries?
One-Level Distribution Channels
Two and Three Level Distribution Channels
Selling
Travel Agent and Tourism Module 3
Technology and Transportation
Improving Operating Efficiency and Effectiveness
Changing Communication and Distribution Channels
Improving Profitability
Point-of-Sale Systems
Management Information Systems
Surface Transportation
Scenic Railroads
Highways and Byways
Airlines
Travel Agent and Tourism Module 4
Accommodations and Food/Beverage
Lodging
Classifications and Rating Systems
Franchising
Management Contracts
Major Influences on the Development of Food and Beverage
Building a Culinary Heritage
Building Profitable Operations
Beverage Operations
Travel Agent and Tourism Module 5
Attractions and Destinations
Heritage Attractions
Commercial Attractions
Gaming
Shopping
Live Entertainment
Classifying Destinations
Sporting Activities
Year-Round Playgrounds
Travel Agent and Tourism Module 6
Economic, Political, Environmental, and Social Impacts
Economic Growth and Vitality
Multiplier Concept
Tourism and Politics
Public/Private Organizations
Tourism Planning
Social and Cultural Benefits of Tourism
Using Culture to Attract Tourisms
Unintended Consequences of Tourism
Travel Agent and Tourism Module 7
Sustaining Tourism's Benefits
When is Tourism Too Much of a Good Thing?
What's in a Name?
Establishing Standards
Going Green
Future of Sustainability
The Shape of Tourism Markets
Emerging Tourism Markets
Transportation Transformations
Service Enhancements
Tourism Research
**Outlines are subject to change, as courses and materials are updated.**
Travel Agent Geography
Travel Agent Geography Module 1
Geography and Tourism
Elements of Geography
The Influence of Tourism
Place and Space
The Opportunity
New England
Mid-Atlantic
South-Atlantic
Travel Agent Geography Module 2
Geography of the United States
East South Central
East North Central
West South Central
West North Central
Travel Agent Geography Module 3
United States and Canada
Mountain
Pacific
Canada
Canadian Territories
Travel Agent Geography Module 4
Geography of Mexico and Caribbean
Mexico and Central America
Greater Antilles
Lesser Antilles
Other Windward Islands
Travel Agent Geography Module 5
Geography of Caribbean and South America
Barbados
Trinidad and Tobago
The Atlantic Islands
The Andes Countries
Middle-Latitude South America
Brazil and the Guyanas
Travel Agent Geography Module 6
Geography of Europe
Western Europe
Northern Europe
Southern Europe
Central Europe and Balkan States
Travel Agent Geography Module 7
Geography of Russia and the Middle East
Russia and its Neighbors
The Central Asian Countries Created from the Former Soviet Union
Middle East
The Arabian Peninsula
Travel Agent Geography Module 8
Geography of Africa
North Africa
West Africa
East Africa
Southern Africa
Travel Agent Geography Module 9
Geography of Africa and Asia
Central and Interior Africa
East Asia
South Asia
Southeast Asia
Travel Agent Geography Module 10
Geography of Asia, Australia, New Zealand and the Islands of South Pacific
Indochina-Vietnam, Cambodia, and Laos
Polynesia
Melanesia, Micronesia, and Other Pacific Islands
New Zealand and Australia
Travel Agent Geography Module 11
Start a Travel Business
The Travel Agent's World
Travel Business Risks
Home-based Travel Agents
Defining Your Market
Choosing Your Clients
Research Your Market
Sizing Up the Competition
Laying Your Foundation
Start Up Costs
Travel Specific Software
Price Your Time & Package
All About Tours & Cruises
The Adventure Travel
Senior Travel
Advertising & Promotion
Controlling Your Finances
**Outlines are subject to change, as courses and materials are updated.**
Start Your Own Business
Start Your Own Business Module 1
Entrepreneurs and Entrepreneurship
Defining Entrepreneurship
Free-Enterprise System
What is a Small Business?
Paths to Enterprise Ownership
Benefits and Costs of Becoming an Entrepreneur
Lean Startup Methodology
What is a Business Plan?
Business Plan Components
Start Your Own Business Module 2
Creating Business and Exploring Your Market
What Defines a Business?
Business Opportunity Decision Process
Your Competitive Advantage
Determining the Value of a Business
Product Life Cycle
Customer Research
Segment and Industry Research
Market Positioning
Start Your Own Business Module 3
Marketing Mix and Smart Selling
The Marketing Mix
Product, Price, Place, Promotion
Advertising and Sales Promotion
Publicity Potential
Developing a Marketing Plan
Sales Call
Creating a Sales Force
Customer Relationship Management Systems
Start Your Own Business Module 4
Costs and Financial Statements
Start-Up Investment
Estimate Value
Fixed and Variable Costs
Calculating Critical Costs
Income Statements
The Balance Sheet
Financial Ratio Analysis
Balance Sheet Analysis
Start Your Own Business Module 5
Cash Flow, Taxes, and Financing Strategies
Cash Flow
Working Capital Cycle
Using a Cash Flow Statement
Capital Budgeting
Gifts and Grants
Debit and Equity Financing
Investing
Start Your Own Business Module 6
Legal Issues and Operating for Success
Business Legal Structures
Contracts
Commercial Law
Intellectual Property
Protecting Tangible Assets
Licenses, Permits, and Certificates
Production-Distribution Chain
Supply Chain Management
Defining Quality
Start Your Own Business Module 7
Management, Leadership, Financing, Licensing
The Entrepreneur as Leader
Business Management
Creating and Managing Organizational Culture
Ethical Leadership
Social Responsibility and Ethics
Focus Your Brand
Harvesting and Exiting Options
Creating Wealth by Selling a Profitable Business
**Outlines are subject to change, as courses and materials are updated.**
Personal Excellence
Personal Excellence Module 1
Your Mission and Vision in Life
In week one, we will learn what a strategic plan is and why you need one in your life. We will also go over the finding your main purpose in life and how to take the steps to reaching that goal of success.
Life Strategic Plan
Why Have a Strategic Plan
Find Your Purpose
Your Personal Mission
Your Vision of Success
Personal Excellence Module 2
Success Factors in Life
This week we will look at what it is that you need in order to succeed. So many times we are pulled way and distracted by menial things and our success is deferred.
Critical Success Factors
Finding Your Strengths
Finding Your Weaknesses
Finding Your Opportunities
Finding Your Threats
Personal Excellence Module 3
Steps to Success
What goals would you like to set for yourself? This week we will study how we can implement goals and follow through on accomplishing them. We will touch on time management and how happiness is sometimes left out of our daily schedules.
Setting Goals
SMART Goals
Time and Emotions Study
Time Management
What Makes You Happy
Personal Excellence Module 4
Creating Your Simplementation Plan
In our final week we will discuss how to select our successful strategies and how to implement them. We will also go over what happens when you are overwhelmed, or feel like there isn't enough time – there are strategies to help overcome these obstacles. Finally, we will learn how to create our own Simplementation plan and apply it to everyday life.
Selecting Successful Strategies
Implementing Strategies Into a Plan
How to Prioritize
Overcoming Obstacles
How to Create a Simplementation Plan
Better Interpersonal Communication
Better Interpersonal Communication Module 1
Introduction to Communication
Because it's such a commonplace activity, we usually don't think about how we communicate too much. However, the power of effective, persuasive communication should never be underestimated. Your success in any number of settings—in your relationships, in school, on the job, and as a member of society— hinges on your ability to master the full communication process. Our first module discusses the basics of verbal and nonverbal communication, as well as uses and misuses.
Why We Communicate
Verbal Communication
Nonverbal Communication
Uses and Misuses
Cultural Differences and Language
Better Interpersonal Communication Module 2
Listening, Self-Esteem, and Self-Disclosure
Listening is the learned process of hearing, attending, evaluating, retaining, and responding to verbal and nonverbal messages. In this module we will learn more about each stage of the listening process: review both the benefits to listening, as well as the challenges to effective listening; and explore the ways in which you can improve your listening skills. We'll also discuss the principles behind self-concepts and self-disclosure.
Listening Process
Benefits to Listening
Steps for Improving Your Listening Skills
Self-Concepts
Self-Disclosure
Better Interpersonal Communication Module 3
Personality Styles and Perception
Do you notice that you act in different ways around certain people? Perhaps you act inhibited around your supervisor, but you wish you could act confident like you do around your co-workers and other colleagues. In other situations, you act polite and deferential around acquaintances, but may wish you could act more sociable like you do around your friends. In this module, we'll discuss how personality styles effect communication as well as the perception process. Finally, we'll explore the basics behind defense mechanisms.
How Does Personality Style Effect Communication?
Physiological and Psychological Factors of Perception
Challenges to the Perception Process
What is Defensiveness?
Defense Mechanisms
Better Interpersonal Communication Module 4
Conflict and Electronic Communication
Interpersonal conflict occurs in interactions where there are real or perceived incompatible goals, scarce resources, or opposing viewpoints. We'll discuss types of conflict and conflict styles in our final module, as well as characteristics of electronic communication.
What is Conflict and What Contributes to It?
Types of Conflict
Conflict Styles
What is Electronic Communication?
Characteristics and Misuses of Electronic Communication
Customer Service Survival Skills
Customer Service Survival Skills Module 1
Understanding the Worst Case Scenarios
In this section, you will learn why you should be open to exploring worst case customer service scenarios. In addition to benefiting from understanding the worst case, you will learn tools for defusing crises in customer service.
Understanding the Moment
Leaning into Criticism
Achieving Deep Acknowledgment
Cultural Intelligence vs Other Intercultural Approaches
Safe Way to Deliver Bad News
Customer Service Survival Skills Module 2
Problem Solving and Putting into Action
During a customer service crisis, it important to choose communication styles that are the most effective for the situation. This section will help to identify techniques and actions that will lead to the effective management of any customer service crisis.
Powerful Problem Solving
Reframing Your Message
Grounding an Angry Outburst
Immune to Intimidation
Wrap-Up
Customer Service Survival Skills Module 3
Your Worst Customer Situations
In customer service with a customer crisis, it can sometimes feel like no matter what you say, it is your fault. This module will focus on identifying how to respond when a customer is in crisis and unresponsive to your attempts at meeting his or her service needs.
You're the Boss
Don't You Know Who I am?
The Concert that Never Was
I'll Be Suing You
Quelling a Social Media Firestorm
Customer Service Survival Skills Module 4
Framing Your Response for a Resolution
In order to provide excellent customer service, it is important to be comfortable with the customer's as well as your own frustration. This module will provide you with some tools to successfully deal with customer frustrations and how to navigate the depth of those frustrations to provide outstanding customer service.
Just Plain Terrible
Anger Management
Not So Smart
When Talking is Not Enough
Customer Crisis to Excellence
Ed4Career is committed to being both environmentally conscious and making it easier for you to study! We're making your education mobile! All of our textbooks are now provided as eTextbooks*. You can access them on your laptop, tablet, or mobile device and can study anytime, anywhere.
The move away from physical books to eTextbooks means you get the latest, most up-to-date version available. This also makes your training more accessible, so you can study anywhere you have your phone or tablet. The best part is that all materials are included in your training cost so there are NO extra fees for books!**
*A few courses still have physical materials.
 
Travel Agent and Tourism
Upon successful completion of our Travel and Tourism course, students will be prepared for an entry-level position as a travel agent in a travel agency and will be prepared to take the National Travel Agent Proficiency (TAP) Test. The TAP Test is a basic competency test that measures the entry-level knowledge of travel professionals within all aspects of the travel industry. The test was developed by The Travel Institute and the American Society of Travel Agents (ASTA) to provide a national standard of entry-level proficiency for the travel industry.
** Certification exams are not included in the cost of the course.**
Internet Connection
Broadband or High-Speed - DSL, Cable, and Wireless Connections
*Dial-Up internet connections will result in a diminished online experience. Classroom pages may load slowly and viewing large audio and video files may not be possible.
Hardware Requirements
Processor - 2GHz Processor or Higher
Memory - 1 GB RAM Minimum Recommended
PC Software Requirements
Operating Systems - Windows 7 or higher
Microsoft Office 2013 or higher. Also, you could use a general Word Processing application to save and open Microsoft Office formats (.doc, .docx, .xls, .xlsx, .ppt, .pptx)
Internet Browsers - Google Chrome is highly recommended

Cookies MUST be enabled
Pop-ups MUST be allowed (Pop-up Blocker disabled)

The Kindle Reader App or VitalSource Bookshelf App are needed for many of our courses (No special equipment needed. This can be downloaded for FREE onto your computer.)
PowerPoint Viewer (if you do not have PowerPoint)
QuickTime, Windows Media Player &/or Real Player
MAC Software Requirements
Operating Systems - Mac OS x 10 or higher with Windows
Mac office programs or a Word Processing application to save and open Microsoft Office formats (.doc, .docx, .xls, .xlsx, .ppt, .pptx)
Internet Browsers- Google Chrome is highly recommended

Cookies MUST be enabled
Pop-ups MUST be allowed (Pop-up Blocker disabled)

The Kindle Reader App or VitalSource Bookshelf App are needed for many of our courses (No special equipment needed. This can be downloaded for FREE onto your computer.)
PowerPoint Viewer (if you do not have PowerPoint)
Adobe PDF Reader
Apple QuickTime Media Player