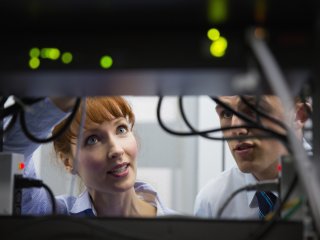 Description
Objectives
Outline
Materials
Certification
System Requirements
Watch a Demo
CompTIA Security+ certification designates knowledgeable professionals in the field of security, one of the fastest-growing fields in IT. CompTIA Security+ is an international, vendor-neutral certification that demonstrates competency in Network Security, Compliance and Operational Security, Threats and Vulnerabilities, Application, Data and Host Security, Access Control, and Identity Management Cryptography.
This course prepares for the Security+ certification exam SY0-601. Many corporations recommend or require the Security+ certification for their IT employees.
This course includes access to a hands-on Practice-Lab which will allow candidates to have training in the practical application of the course concepts without having to buy any additional software and will prepare them for success on the certification exam.
Prerequisite(s): We recommend candidates possess CompTIA Network+ certification and two years of technical networking experience, with an emphasis on security.
By the end of this course, you will be able to:
Identify the principles of network security
Recognize the steps for compliance and operational security
Define Devices and Infrastructures
Recall the steps for controlling access, authentication, and authorization
List the steps for protecting Wireless Networks
CompTIA Security+ Module 1
Cybersecurity Threats
• Data Breach Risks
• Implementing Security Controls
• Data Protection
• Exploring Cybersecurity Threats
• Threat Data and Intelligence
CompTIA Security+ Module 2
Malicious Code and Social Engineering
• Malware
• Malicious Code
• Adversarial Artificial Intelligence
• Social Engineering
• Password Attacks
• Physical Attacks
CompTIA Security+ Module 3
Security Assessment and Secure Coding
• Vulnerability Management
• Security Vulnerabilities
• Penetration Testing
• Software Assurance Best Practices
• Software Security Testing
• Injection Vulnerabilities
• Exploiting Authentication, Authorization, and Web Application Vulnerabilities
• Secure Coding Practices
CompTIA Security+ Module 4
Cryptography and Identity Management
• Cryptographic Concepts
• Symmetric and Asymmetric Cryptography
• Hash Functions
• Public Key Infrastructure
• Identify
• Authentication and Authorization
• Authentication Methods
• Accounts
• Access Control Schemes
CompTIA Security+ Module 5
Physical, Cloud, and Virtualization Security
• Building Cybersecurity Resilience
• Response and Recovery Controls
• Physical Security Controls
• Virtualization
• Cloud Infrastructure Components
• Cloud Security Issues
• Cloud Security Controls
CompTIA Security+ Module 6
Endpoint and Network Security
• Protecting Endpoints
• Service Hardening
• Operating System Hardening
• Securing Embedded and Specialized Systems
• Designing Secure Networks
• Attacking and Assessing Networks
• Network Reconnaissance and Discovery Tools
CompTIA Security+ Module 7
Wireless Security and Incident Response
• Building Secure Wireless Networks
• Managing Secure Mobile Devices
• Incident Response
• Incident Response Data and Tools
• Mitigation and Recovery
CompTIA Security+ Module 8
Digital Forensics, Compliance, and Risk Management
• Digital Forensic Concepts
• Conducting Digital Forensics
• Personnel Management
• Third-Party Risk Management
• Complying with Laws and Regulations
• Adopting Standard Frameworks
• Analyzing and Managing Risk
• Risk Analysis
• Disaster Recovery Planning
**Outlines are subject to change, as courses and materials are updated.**
Ed4Career is committed to being both environmentally conscious and making it easier for you to study! We're making your education mobile! All of our textbooks are now provided as eTextbooks. You can access them on your laptop, tablet, or mobile device and can study anytime, anywhere.
The move away from physical books to eTextbooks means you get the latest, most up-to-date version available. This also makes your training more accessible, so you can study anywhere you have your phone or tablet. The best part is that all materials are included in your training cost so there are NO extra fees for books!
Upon successful completion of this course, students will be prepared to sit for the CompTIA Exam SY0-601: CompTIA Security+ certification exam.
Internet Connection
Broadband or High-Speed - DSL, Cable, and Wireless Connections
*Dial-Up internet connections will result in a diminished online experience. Classroom pages may load slowly and viewing large audio and video files may not be possible.
Hardware Requirements
Processor - 2GHz Processor or Higher
Memory - 1 GB RAM Minimum Recommended
PC Software Requirements
Operating Systems - Windows 7 or higher
Microsoft Office 2013 or higher. Also, you could use a general Word Processing application to save and open Microsoft Office formats (.doc, .docx, .xls, .xlsx, .ppt, .pptx)
Internet Browsers - Google Chrome is highly recommended


Cookies MUST be enabled
Pop-ups MUST be allowed (Pop-up Blocker disabled)

The Kindle Reader App or VitalSource Bookshelf App are needed for many of our courses (No special equipment needed. This can be downloaded for FREE onto your computer.)
PowerPoint Viewer (if you do not have PowerPoint)
QuickTime, Windows Media Player &/or Real Player
MAC Software Requirements
Operating Systems - Mac OS x 10 or higher with Windows
Mac office programs or a Word Processing application to save and open Microsoft Office formats (.doc, .docx, .xls, .xlsx, .ppt, .pptx)
Internet Browsers- Google Chrome is highly recommended


Cookies MUST be enabled
Pop-ups MUST be allowed (Pop-up Blocker disabled)

The Kindle Reader App or VitalSource Bookshelf App are needed for many of our courses (No special equipment needed. This can be downloaded for FREE onto your computer.)
PowerPoint Viewer (if you do not have PowerPoint)
Adobe PDF Reader
Apple QuickTime Media Player