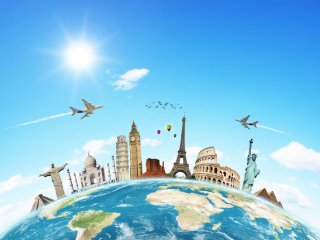 Course Type:
Instructor Led - 4 Weeks Long
Description
Objectives
Outline
Materials
System Requirements
Travel agent career professionals help people plan family vacations, corporate trips, cruises, international travel, and specialty tours such as adventure vacations. Travel agents generally have access to important information regarding fares and discounts, and are knowledgeable about particular geographic locations. Start your own travel business and discover success by offering unique opportunities--in both geography and market niche. 
After completing this course, you should be able to:
Identify the various roles of the agent in the travel industry
Recall the many travel markets available and how to choose a specific market
Recognize strategies for pricing your services and travel packages
List ways to advertise, promote a business and control finances 
Start Your Own Travel Business Module 1
The Travel Industry
Do you love traveling?  Do you seek thrills from searching for rare and exciting locations to explore?  Module one will discuss the various roles of the agent in the travel industry and the plethora of travel destinations and types.  Opening a travel agency can be a lucrative business, but we first need to determine which type of licenses to obtain and agencies that should be avoided, all discussed in the first module.  
The Travel Agent's World
The Other Side of the Coin
Travel Business Risks
License or Not
Agencies to Avoid
Start Your Own Travel Business Module 2
Market Research and Starting Off Right
This flourishing business includes traveling for leisure, adventure, business, and more!  In module two, we will look at these niches and determine which market may be the best start for your business.  Additionally, we will explore how to choose your business name, type of structure, and what type of fees you will have when initially starting your company. 
Defining Your Market
Sizing Up Competition
Laying Your Foundation
Operating Expenses
Funding Your Business
Start Your Own Travel Business Module 3
All About Adventure Travel
So just what does an independent travel agent do all day?  In this module, we will answer that question!  Module 3 also will explore the many dazzling tour choices and how to narrow them down to help your client find the perfect match.
Price Your Time and Package
Marketing Tours
All About Cruises
Do You Have A Niche
Seniors on the Move
Start Your Own Travel Business Module 4
Advertising, Media, Controlling Your Finances
This module will explore one of the most fun, exciting, creating and most demanding parts of the travel business—advertising and promotion.  Also in module four, we will discuss how to budget and control your finances and how to overcome those financial bumps in the road.  The module ends with discussion on final tips in becoming a successful travel professional.
Advertising and Promotion
Media Time
Controlling Your Finances
Bumps on the Road
Some Kind of Wonderful
Ed4Career is committed to being both environmentally conscious and making it easier for you to study! We're making your education mobile! All of our textbooks are now provided as eTextbooks. You can access them on your laptop, tablet, or mobile device and can study anytime, anywhere.
The move away from physical books to eTextbooks means you get the latest, most up-to-date version available. This also makes your training more accessible, so you can study anywhere you have your phone or tablet. The best part is that all materials are included in your training cost so there are NO extra fees for books!
Internet Connection
Broadband or High-Speed - DSL, Cable, and Wireless Connections
*Dial-Up internet connections will result in a diminished online experience. Classroom pages may load slowly and viewing large audio and video files may not be possible.
Hardware Requirements
Processor - 2GHz Processor or Higher
Memory - 1 GB RAM Minimum Recommended
PC Software Requirements
Operating Systems - Windows 7 or higher
Microsoft Office 2013 or higher. Also, you could use a general Word Processing application to save and open Microsoft Office formats (.doc, .docx, .xls, .xlsx, .ppt, .pptx)
Internet Browsers - Google Chrome is highly recommended


Cookies MUST be enabled
Pop-ups MUST be allowed (Pop-up Blocker disabled)

The Kindle Reader App or VitalSource Bookshelf App are needed for many of our courses (No special equipment needed. This can be downloaded for FREE onto your computer.)
PowerPoint Viewer (if you do not have PowerPoint)
QuickTime, Windows Media Player &/or Real Player
MAC Software Requirements
Operating Systems - Mac OS x 10 or higher with Windows
Mac office programs or a Word Processing application to save and open Microsoft Office formats (.doc, .docx, .xls, .xlsx, .ppt, .pptx)
Internet Browsers- Google Chrome is highly recommended


Cookies MUST be enabled
Pop-ups MUST be allowed (Pop-up Blocker disabled)

The Kindle Reader App or VitalSource Bookshelf App are needed for many of our courses (No special equipment needed. This can be downloaded for FREE onto your computer.)
PowerPoint Viewer (if you do not have PowerPoint)
Adobe PDF Reader
Apple QuickTime Media Player