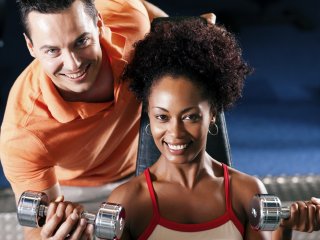 Course Type:
Instructor Led - 4 Weeks Long
Description
Objectives
Outline
Materials
System Requirements
Have you ever dreamed of starting your own Personal Training business?  As people of all ages become more aware of the importance of living a healthy lifestyle, personal trainers are in high demand. As a personal trainer you have the opportunity to make a difference in people's lives by tailoring your exercise and healthy living training to each individual client.  Whether your goal is to provide fitness assessments, individual exercise programs, or train in small or large groups, you will learn how to combine your love of fitness with your entrepreneurial spirit to create a comprehensive business plan for your company.
At the conclusion of this course, you should be able to:
Identify the many ways to design a personal training business
List the strategies to use to find the perfect location and set up a business 
Recognize ways for choosing the right exercise equipment
Recall ways to price services and market a personal training business
Start Your Own Personal Training Module 1
Designing Your Business
In module 1, we will look at the many areas of instruction and coaching encompasses, including: physiology, kinesiology, injury prevention, fitness assessment, sports training, and nutrition. Afterwards, we will look at the elements of a business plan, the legal structure of your business, insurances and licenses and permits. 
What Do Personal Trainers Do?
Business Plan Elements
The Competitor You Can't See
Structuring Your Business
Professional Advisors
Start Your Own Personal Training Module 2
Locating and Setting Up Your Business
There are several ways to keep your costs and risk factors down the first few years of growing your business.  In this module, we will look at strategies to use to maximize your income.  Additionally, we will take a look at setting up your website and come up with marketing slogans and hook words. 
Where to Set Up?
Operating in Cyberspace
Email Dos and Don'ts
Words are Hooks
Building Relationships Take Time
Start Your Own Personal Training Module 3
Setting Yourself Apart
Module 3 will go over the ways the health and fitness industry is changing and what you can do to meet these challenges.   We will also take a look at the start-up costs of starting your own business, including the business and exercise equipment.  When starting your own business, you also have to consider who you will hire and for what positions.  In module 3, we will look at how to maximize your human resources. 
Trends
Functional Training
Sources of Startup Funds
Exercise Equipment
Maximizing Your Human Resources
Start Your Own Personal Training Module 4
Marketing and Fitness Tales
In this module, we will discuss marketing basics and how to choose the most efficient for your home based business.  Module 4 will also discuss the basics of bookkeeping and how it affects the health of your business and financial status. 
Getting the Word Out
Promoting Business
Pricing Your Services
Keeping Records
Know What Your Clients Know
Ed4Career is committed to being both environmentally conscious and making it easier for you to study! We're making your education mobile! All of our textbooks are now provided as eTextbooks. You can access them on your laptop, tablet, or mobile device and can study anytime, anywhere.
The move away from physical books to eTextbooks means you get the latest, most up-to-date version available. This also makes your training more accessible, so you can study anywhere you have your phone or tablet. The best part is that all materials are included in your training cost so there are NO extra fees for books!
Internet Connection
Broadband or High-Speed - DSL, Cable, and Wireless Connections
*Dial-Up internet connections will result in a diminished online experience. Classroom pages may load slowly and viewing large audio and video files may not be possible.
Hardware Requirements
Processor - 2GHz Processor or Higher
Memory - 1 GB RAM Minimum Recommended
PC Software Requirements
Operating Systems - Windows 7 or higher
Microsoft Office 2013 or higher. Also, you could use a general Word Processing application to save and open Microsoft Office formats (.doc, .docx, .xls, .xlsx, .ppt, .pptx)
Internet Browsers - Google Chrome is highly recommended


Cookies MUST be enabled
Pop-ups MUST be allowed (Pop-up Blocker disabled)

The Kindle Reader App or VitalSource Bookshelf App are needed for many of our courses (No special equipment needed. This can be downloaded for FREE onto your computer.)
PowerPoint Viewer (if you do not have PowerPoint)
QuickTime, Windows Media Player &/or Real Player
MAC Software Requirements
Operating Systems - Mac OS x 10 or higher with Windows
Mac office programs or a Word Processing application to save and open Microsoft Office formats (.doc, .docx, .xls, .xlsx, .ppt, .pptx)
Internet Browsers- Google Chrome is highly recommended


Cookies MUST be enabled
Pop-ups MUST be allowed (Pop-up Blocker disabled)

The Kindle Reader App or VitalSource Bookshelf App are needed for many of our courses (No special equipment needed. This can be downloaded for FREE onto your computer.)
PowerPoint Viewer (if you do not have PowerPoint)
Adobe PDF Reader
Apple QuickTime Media Player