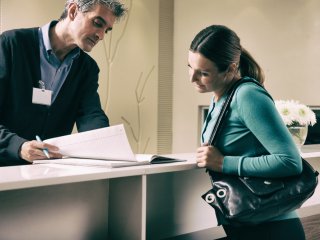 Course Type:
Instructor Led - 4 Weeks Long
Description
Objectives
Outline
Materials
System Requirements
As insurance regulations and paperwork requirements get more complicated, doctors and other health care providers are turning to third-party billing services to take care of their billing needs.  It's a multi-billion dollar industry that's growing like never before, creating a growing niche for entrepreneurs who are experts at tunneling their way through the paper avalanche. In our course, students will receive expert advice and the latest industry information needed. Included in our program is efficient methods of researching the market, calculating costs, finding clients and receiving referrals, dealing with insurance carriers and so much more! 
After completing this course, you should be able to:
List the basics of starting a medical claims billing service
Recognize ways to target a specific audience and figure finances
Recall effective ways to operate a business
Identify processes to retain existing customers and build new ones
Start Your Own Medical Claims Billing Service Module 1
Prescription for Success
Medical Claims Billing Services provide a valued service to healthcare providers. Module one will go over the basics of the billing service to include the organization one must have in order to keep up with the billing demands of doctor's offices, hospitals, and other healthcare providers. Also included in module one is an overview of the basic types of insurances and how to manage Medicare and Workers' Compensation.  With all of the demands within the billing service, it is easy to lose track of time.
Electronic Filing Beats Paper
Health Insurance 101
Muddling Through Medicare
Time Juggling
Day-to-Day Operations
Start Your Own Medical Claims Billing Service Module 2
Diagnosing Your Market and Figuring Finances
While examining your potential clients and competition, you should also consider your region's economic pulse.  Module two will help you determine what type of pay you can expect given the region you are working in. Talking too much can destroy your reputation.  In this module, we will look at what to do to keep a positive image. We will also discuss communication etiquette and how to control your own destiny in this regard.  
The Economic Pulse
The Competition
Framework of the Medical Billing Business
Figuring Your Finances
Operating Expenses
Start Your Own Medical Claims Billing Service Module 3
Operating Your Business
Everyone understands the importance of hiring the right employee for your business, but knowing what to look for during the interview process can be difficult. Module three will discuss basic considerations you should remember while talking with potential employees so that the perfect team member is added to your company. Making good calculations for your company is key to financial success; short term, actionable goals that can be quantified need to be set.  Module three will look at effective ways to run your business.
The Home Office
Employees and Insurance
Equipping Your Business
The Business Opportunity
Cool and Calculating
Start Your Own Medical Claims Billing Service Module 4
Blowing Your Own Horn and Controlling Finances
In today's economy, customers and clients can easily transfer their loyalty to other businesses.  Module four will look at processes and company decisions that need to be made to capture your clients, and keep them.  Using these processes will help retain existing customers who, in turn, can help build your company.  Also included in module four is the basics of business taxes and how to prepare for them as you go, instead of being bogged down at tax time.  Statistics show that business owners have a wealth of balance between work and personal time.  Module four will cover the basics of how to successfully run your company, potentially allowing for a better quality of life.
Capture That Client
Public Relations
Controlling Your Finances
Taxes
Operating Successfully
Ed4Career is committed to being both environmentally conscious and making it easier for you to study! We're making your education mobile! All of our textbooks are now provided as eTextbooks. You can access them on your laptop, tablet, or mobile device and can study anytime, anywhere.
The move away from physical books to eTextbooks means you get the latest, most up-to-date version available. This also makes your training more accessible, so you can study anywhere you have your phone or tablet. The best part is that all materials are included in your training cost so there are NO extra fees for books!
Internet Connection
Broadband or High-Speed - DSL, Cable, and Wireless Connections
*Dial-Up internet connections will result in a diminished online experience. Classroom pages may load slowly and viewing large audio and video files may not be possible.
Hardware Requirements
Processor - 2GHz Processor or Higher
Memory - 1 GB RAM Minimum Recommended
PC Software Requirements
Operating Systems - Windows 7 or higher
Microsoft Office 2013 or higher. Also, you could use a general Word Processing application to save and open Microsoft Office formats (.doc, .docx, .xls, .xlsx, .ppt, .pptx)
Internet Browsers - Google Chrome is highly recommended


Cookies MUST be enabled
Pop-ups MUST be allowed (Pop-up Blocker disabled)

The Kindle Reader App or VitalSource Bookshelf App are needed for many of our courses (No special equipment needed. This can be downloaded for FREE onto your computer.)
PowerPoint Viewer (if you do not have PowerPoint)
QuickTime, Windows Media Player &/or Real Player
MAC Software Requirements
Operating Systems - Mac OS x 10 or higher with Windows
Mac office programs or a Word Processing application to save and open Microsoft Office formats (.doc, .docx, .xls, .xlsx, .ppt, .pptx)
Internet Browsers- Google Chrome is highly recommended


Cookies MUST be enabled
Pop-ups MUST be allowed (Pop-up Blocker disabled)

The Kindle Reader App or VitalSource Bookshelf App are needed for many of our courses (No special equipment needed. This can be downloaded for FREE onto your computer.)
PowerPoint Viewer (if you do not have PowerPoint)
Adobe PDF Reader
Apple QuickTime Media Player