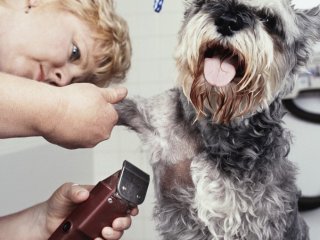 Course Type:
Instructor Led - 4 Weeks Long
Description
Objectives
Outline
Materials
System Requirements
Are you an animal person? Do you consider your pet a part of your family? The number of pet-owning households is growing every year. The grooming industry is booming. At last count, there were around 60,000 to 80,000 pet groomers in the U.S. Our Start Your Own Home-Based Pet Grooming Business course lays the framework for developing your own pet grooming business. We cover pet services that are in demand, training you need to become a pet groomer, and business basics – finances, insurance, marketing, and business branding. This course will teach you all the steps necessary for creating a successful home-based pet grooming business. 
After completing this course, you should be able to:
Identify methods for becoming a pet groomer, such as training and creating a business plan
Recall the basics of developing your home-based business, such as accounting and obtaining insurance
Recognize the steps for constructing your home grooming shop
Discuss how to market and advertise your pet grooming business to increase business growth opportunities
Start Your Own Home-Based Pet Grooming Business Module 1
Why Pet Grooming?
When it comes to pampering their fur babies, pet owners don't hold back. Different breeds of dogs require different types of grooming. Every breed of dog should visit a professional groomer at least 4 times a year. This module will explore pet services that are in demand today, as well as training needed to become a licensed groomer. We'll also dive into creating a business plan and choosing the right name for your company. 
Pet Services in Demand Today
Golden Reputation
Creating a Business Plan
Licenses and Permits
Pet Population
Start Your Own Home-Based Pet Grooming Business Module 2
Business Basics
Becoming a business owner requires a major shift in your mindset. You will always need to focus on the bottom line. This module aims to make the process of becoming a business owner less stressful by helping you be prepared. We will discuss choosing the right accountant, tax responsibilities, and how to properly insure yourself and your business. We'll also examine how to correctly equip your office.
Accounting and Taxes
Your Balance Sheet
Insuring Your Success
Business Bank Account
Equipping Your Office
Start Your Own Home-Based Pet Grooming Business Module 3
Constructing Your Home Grooming Shop
It takes a lot of planning and consideration when deciding to start a home-based pet grooming business. You'll need to have an adequate amount of room and a welcoming reception area. Your grooming space should be clean and you should have the right tools to do the job. We'll also examine how to finance your grooming business.
Room to Grow
Financing Your Grooming Business
What Will It Cost?
Pet Grooming Housekeeping
Grooming Shows and Competitions
Start Your Own Home-Based Pet Grooming Business Module 4
Marketing and Public Relations
You'll need to understand how to set your prices, marketing, and advertising before you take the plunge into creating your own pet-grooming business. This module will explore various avenues for marketing – magazines, websites, and social media. We will also cover ways to make your business grow, hiring employees, and keeping staff motivated.
Setting Your Prices
Advertising
The Personal Touch
Growth Opportunities
How to Pay Employees
 
Ed4Career is committed to being both environmentally conscious and making it easier for you to study! We're making your education mobile! All of our textbooks are now provided as eTextbooks. You can access them on your laptop, tablet, or mobile device and can study anytime, anywhere.
The move away from physical books to eTextbooks means you get the latest, most up-to-date version available. This also makes your training more accessible, so you can study anywhere you have your phone or tablet. The best part is that all materials are included in your training cost so there are NO extra fees for books!
Internet Connection
Broadband or High-Speed - DSL, Cable, and Wireless Connections
*Dial-Up internet connections will result in a diminished online experience. Classroom pages may load slowly and viewing large audio and video files may not be possible.
Hardware Requirements
Processor - 2GHz Processor or Higher
Memory - 1 GB RAM Minimum Recommended
PC Software Requirements
Operating Systems - Windows 7 or higher
Microsoft Office 2013 or higher. Also, you could use a general Word Processing application to save and open Microsoft Office formats (.doc, .docx, .xls, .xlsx, .ppt, .pptx)
Internet Browsers - Google Chrome is highly recommended


Cookies MUST be enabled
Pop-ups MUST be allowed (Pop-up Blocker disabled)

The Kindle Reader App or VitalSource Bookshelf App are needed for many of our courses (No special equipment needed. This can be downloaded for FREE onto your computer.)
PowerPoint Viewer (if you do not have PowerPoint)
QuickTime, Windows Media Player &/or Real Player
MAC Software Requirements
Operating Systems - Mac OS x 10 or higher with Windows
Mac office programs or a Word Processing application to save and open Microsoft Office formats (.doc, .docx, .xls, .xlsx, .ppt, .pptx)
Internet Browsers- Google Chrome is highly recommended


Cookies MUST be enabled
Pop-ups MUST be allowed (Pop-up Blocker disabled)

The Kindle Reader App or VitalSource Bookshelf App are needed for many of our courses (No special equipment needed. This can be downloaded for FREE onto your computer.)
PowerPoint Viewer (if you do not have PowerPoint)
Adobe PDF Reader
Apple QuickTime Media Player