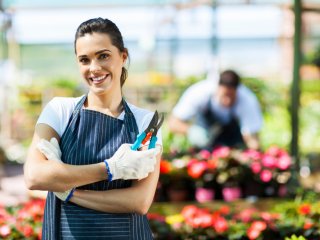 Course Type:
Instructor Led - 4 Weeks Long
Description
Objectives
Outline
Materials
System Requirements
Do you love being surrounded by flowers? Do you like to make people feel special with your floral gifts and arrangements? With so many different occasions appropriate for giving flowers, a florist shop is an in-demand business to start. Perfect your floral-arranging skills and customer service skills with a traditional florist shop or use your creativity with the endless possibilities of items to add to your shop! Whether you are considering opening a retail or a wholesale floral business, there are many things to consider when thinking about starting a floral business.  Our course will provide you with essential information to get started!
After completing this course, you should be able to:
Recall the core elements of the floral industry
Identify the florist business's target market and audience
Recognize the necessities for outfitting a flower shop
List the steps for setting up a marketing plan and ways to expand the business 
Start Your Own Florist Business Module 1
A Day in the Life of a Florist
It seems that a business owner of a florist shop would spend a lot of time dabbling with flowers, plants, and arrangements.  But, although an owner is surrounded by the fragrant collections, they actually spend little time with the actual arrangements.  Module one will review the day in the life of a florist and examine the basic steps that the owner needs to take in the beginning. Also included in module one is how to arrange window displays, refrigeration, counter space, storage, and the atmosphere of the shop.
Where to Start
Arranging
Behind the Scenes
Retail
Wholesale Flowers and Supplies
Start Your Own Florist Business Module 2
Market Research and the Business Side of Flowers
Where do your customers come from?  What other businesses are similar to yours in the area?  These questions are important as you plan to seek financing for your company.  Module two will guide you, the new business owner, through the basics of how to set up your company for financial success. Also included in module two is considerations you should take in legal issues and insurance policies for your company. 
Customer Base
Financing
Cycles of the Financial Moon
Tracking Money
Insurance and Legal Matters
Start Your Own Florist Business Module 3
Outfitting a Flower Shop
Creativity is key when furnishing your flower shop.  Some items cannot be avoided when considering your initial purchases and in module three, we will take a look at the necessities and the wants.  Also included in module three is where to purchase your flowers from and how to care for your flowers.  Wrapping up this module is what you need to do to stay up to day in the florist industry and a look at a few tips of the trade. 
The Flower Shop Necessities
Practical Matters
Flowers, Flowers, Wherefore Art Thou?
Learning about a Niche
Tricks of the Trade
Marketing and Expansion
Module four will examine how to build your marketing plan and marketing tips that will help the customers come to you.  Also included in module four is an overview of what the typical customer wants and how your role is important in gaining their respect and long-term commitment to your company.  Module four finishes up with tips on how to bring in more money. 
Marketing Plan
Flower Talk
Customer Service
Expanding Revenue, Not Customers
Wholesale Floral
Ed4Career is committed to being both environmentally conscious and making it easier for you to study! We're making your education mobile! All of our textbooks are now provided as eTextbooks. You can access them on your laptop, tablet, or mobile device and can study anytime, anywhere.
The move away from physical books to eTextbooks means you get the latest, most up-to-date version available. This also makes your training more accessible, so you can study anywhere you have your phone or tablet. The best part is that all materials are included in your training cost so there are NO extra fees for books!
Internet Connection
Broadband or High-Speed - DSL, Cable, and Wireless Connections
*Dial-Up internet connections will result in a diminished online experience. Classroom pages may load slowly and viewing large audio and video files may not be possible.
Hardware Requirements
Processor - 2GHz Processor or Higher
Memory - 1 GB RAM Minimum Recommended
PC Software Requirements
Operating Systems - Windows 7 or higher
Microsoft Office 2013 or higher. Also, you could use a general Word Processing application to save and open Microsoft Office formats (.doc, .docx, .xls, .xlsx, .ppt, .pptx)
Internet Browsers - Google Chrome is highly recommended


Cookies MUST be enabled
Pop-ups MUST be allowed (Pop-up Blocker disabled)

The Kindle Reader App or VitalSource Bookshelf App are needed for many of our courses (No special equipment needed. This can be downloaded for FREE onto your computer.)
PowerPoint Viewer (if you do not have PowerPoint)
QuickTime, Windows Media Player &/or Real Player
MAC Software Requirements
Operating Systems - Mac OS x 10 or higher with Windows
Mac office programs or a Word Processing application to save and open Microsoft Office formats (.doc, .docx, .xls, .xlsx, .ppt, .pptx)
Internet Browsers- Google Chrome is highly recommended


Cookies MUST be enabled
Pop-ups MUST be allowed (Pop-up Blocker disabled)

The Kindle Reader App or VitalSource Bookshelf App are needed for many of our courses (No special equipment needed. This can be downloaded for FREE onto your computer.)
PowerPoint Viewer (if you do not have PowerPoint)
Adobe PDF Reader
Apple QuickTime Media Player