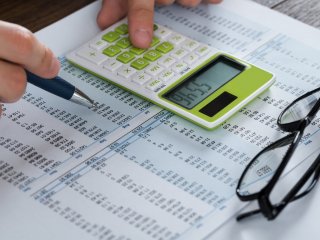 Course Type:
Instructor Led - 4 Weeks Long
Description
Objectives
Outline
Materials
System Requirements
Have you ever dreamed of starting your own Bookkeeping business?  Many years ago Benjamin Franklin said, "There is nothing certain in life except death and taxes." This is still true today. According to the laws of the Internal Revenue Service, businesses "must keep adequate accounting records."  This course will help guide you through the process of starting and growing your business.   First we will cover the initial steps to starting your business from choosing a name to selecting the type of entity and more.  Marketing your business is key and in this course, you will learn how to utilize social media and important aspects of your branded website.  Other topics include developing a clientele list, legal and ethical issues and other resources - all geared to helping you build the successful business of your dreams.
After completing this course, you should be able to:
Identify various challenges in starting a bookkeeping business
Recall methods and techniques for setting up a bookkeeping business
List strategies to use in a marketing campaign
Define client management techniques and recognize financial considerations for starting a business 
Start Your Own Bookkeeping Business Module 1
Start-Up Considerations
People start their own businesses for a variety of reasons.  What is your motivation for starting your own home-based business?  Balancing work and family can be somewhat challenging, but with your dedication, vision and knowledge of how to successfully run a business, you will succeed.  This module will take you through starter business challenges and methods to use in your new bookkeeping business.  
How the Industry Has Changed
Why Be a Home-Based Business?
Balancing Work and Family
What is Your Vision for the Business
Methods to Get Started
Start Your Own Bookkeeping Business Module 2
Setting Up Your Business
Module two will offer tips and suggestions in how to write your business plan.  Additionally, we will go through the sequence of steps needed to establish your business identity.  Setting up your home office is key to an organized and successful home business. In this module, we will discuss some ideas as to how to set up your home office.  We will also explore some of the key technology items to consider when getting started.
Tools and Resources for Writing the Plan
Establish Your Business Identity
Marketing Materials
Set Up Your Home Office
Technology: Computer, Software, and Other Equipment
Start Your Own Bookkeeping Business Module 3
Training, Experience and Marketing
In module three, we will look at what you can do to help your business stand out from the crowd. Bookkeeping certification could be just what you need to advance your business.  We will discuss the career outlook for bookkeepers and the differences in certification types. Today, businesses heavily rely on social media and only marketing to advertise their brand. In this module, we will discuss strategies to use in your marketing campaign.
Bookkeeper Certification
Your Brand
Contact List for Marketing
Your Website
Online Marketing and Social Media
Start Your Own Bookkeeping Business Module 4
Financial Considerations and Client-Management
Module four will focus on the financial considerations and client management areas of your business.  Part of our focus will be on billing policies and terms and how to easily manage accounts.  We will share what type of software available to you to help with this process.  The last part of module four will go over the regulations for preparing taxes and how to follow the boards of accountancy in your state.
Billing Policies and Terms
Manage Accounts Receivable and Collections
Client-Acceptance and Retention Policies
Systems and Procedures
State Boards of Accountancy and Regulations for Tax Professionals
Ed4Career is committed to being both environmentally conscious and making it easier for you to study! We're making your education mobile! All of our textbooks are now provided as eTextbooks. You can access them on your laptop, tablet, or mobile device and can study anytime, anywhere.
The move away from physical books to eTextbooks means you get the latest, most up-to-date version available. This also makes your training more accessible, so you can study anywhere you have your phone or tablet. The best part is that all materials are included in your training cost so there are NO extra fees for books!
Internet Connection
Broadband or High-Speed - DSL, Cable, and Wireless Connections
*Dial-Up internet connections will result in a diminished online experience. Classroom pages may load slowly and viewing large audio and video files may not be possible.
Hardware Requirements
Processor - 2GHz Processor or Higher
Memory - 1 GB RAM Minimum Recommended
PC Software Requirements
Operating Systems - Windows 7 or higher
Microsoft Office 2013 or higher. Also, you could use a general Word Processing application to save and open Microsoft Office formats (.doc, .docx, .xls, .xlsx, .ppt, .pptx)
Internet Browsers - Google Chrome is highly recommended


Cookies MUST be enabled
Pop-ups MUST be allowed (Pop-up Blocker disabled)

The Kindle Reader App or VitalSource Bookshelf App are needed for many of our courses (No special equipment needed. This can be downloaded for FREE onto your computer.)
PowerPoint Viewer (if you do not have PowerPoint)
QuickTime, Windows Media Player &/or Real Player
MAC Software Requirements
Operating Systems - Mac OS x 10 or higher with Windows
Mac office programs or a Word Processing application to save and open Microsoft Office formats (.doc, .docx, .xls, .xlsx, .ppt, .pptx)
Internet Browsers- Google Chrome is highly recommended


Cookies MUST be enabled
Pop-ups MUST be allowed (Pop-up Blocker disabled)

The Kindle Reader App or VitalSource Bookshelf App are needed for many of our courses (No special equipment needed. This can be downloaded for FREE onto your computer.)
PowerPoint Viewer (if you do not have PowerPoint)
Adobe PDF Reader
Apple QuickTime Media Player