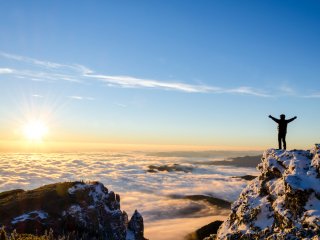 Course Type:
Instructor Led - 4 Weeks Long
Description
Objectives
Outline
Materials
System Requirements
Are you prepared for nuclear missiles, new weather patterns, a breakdown in government, and the unknown? What will you do if the lights never come back on?  What if there is no help coming. . . ever? Are you concerned about how you would keep your family alive and safe after society has collapsed? Our Basic Survival Skills course will give ideas and share secrets to surviving weeks, months, and even years after a disaster.   
* You have 4 weeks to complete this course from date of your enrollment.
** Course Subject to Change.
After completing this course, you should be able to:
Recall phases of emergency management and natural, and main-made disasters
Identify how to create disaster kits and food storage and first aid techniques
Recognize components for situational awareness and how to prevent panic
List basic techniques for testing your preparedness  
Basic Survival Skills Module 1
Emergency Management, Threats, and Preparedness Strategies
Thankfully, catastrophic events that bring about societal collapse rarely happen, but will you be prepared if it does? Module one discusses the four phases of emergency management: mitigation, preparedness, response, and recovery. This module also examines natural disasters and man-caused disasters that have happened in America.
Mitigation, Preparedness
Response, Recovery
Common Natural Disasters in America
Common Man-Caused Disasters in America
Common Prepper Strategies
Basic Survival Skills Module 2
Disaster Kits, Food Storage, and First Aid
In case of an emergency or a disaster, you don't want to be caught off guard searching for important items. Module two explores how to properly create disaster kits so you will always be prepared. We'll also explore basic food storage systems, water systems, and first aid techniques, including giving CPR and dealing with conscious and unconscious patients. 
Everyday Carry Essentials
Common Food Storage Systems
Three Types of Mills
First Aid Techniques
Airway and Breathing
Basic Survival Skills Module 3
Situational Awareness and Preventing Panic
Situational awareness is vital to preparedness. If you aren't aware of your surroundings, how can you possible recognize and react to emergency situations? Module three explores ways to increase disaster awareness and simple methods for preventing panic and making logical disasters during an emergency.
White, Yellow, Orange, and Red
Increasing Disaster Awareness
Simple Methods to Prevent Panic and Make Decisions
Working in a Preparedness Team
Safe Way to Find Potential Team Members
Basic Survival Skills Module 4
Testing Your Preparedness
Module four discusses scenarios for testing your emergency preparedness. There are a number of ways to test yourself and they include preforming drills, designing games, and performing bug out tests. Finally, this module explores 19 steps for basic preparedness.
After Action Report
72-Hour Bug in Test
Drills
19 Steps for Basic Preparedness
Threat Assessment 
Ed4Career is committed to being both environmentally conscious and making it easier for you to study! We're making your education mobile! All of our textbooks are now provided as eTextbooks. You can access them on your laptop, tablet, or mobile device and can study anytime, anywhere.
The move away from physical books to eTextbooks means you get the latest, most up-to-date version available. This also makes your training more accessible, so you can study anywhere you have your phone or tablet. The best part is that all materials are included in your training cost so there are NO extra fees for books!
Internet Connection
Broadband or High-Speed - DSL, Cable, and Wireless Connections
*Dial-Up internet connections will result in a diminished online experience. Classroom pages may load slowly and viewing large audio and video files may not be possible.
Hardware Requirements
Processor - 2GHz Processor or Higher
Memory - 1 GB RAM Minimum Recommended
PC Software Requirements
Operating Systems - Windows 7 or higher
Microsoft Office 2013 or higher. Also, you could use a general Word Processing application to save and open Microsoft Office formats (.doc, .docx, .xls, .xlsx, .ppt, .pptx)
Internet Browsers - Google Chrome is highly recommended


Cookies MUST be enabled
Pop-ups MUST be allowed (Pop-up Blocker disabled)

The Kindle Reader App or VitalSource Bookshelf App are needed for many of our courses (No special equipment needed. This can be downloaded for FREE onto your computer.)
PowerPoint Viewer (if you do not have PowerPoint)
QuickTime, Windows Media Player &/or Real Player
MAC Software Requirements
Operating Systems - Mac OS x 10 or higher with Windows
Mac office programs or a Word Processing application to save and open Microsoft Office formats (.doc, .docx, .xls, .xlsx, .ppt, .pptx)
Internet Browsers- Google Chrome is highly recommended


Cookies MUST be enabled
Pop-ups MUST be allowed (Pop-up Blocker disabled)

The Kindle Reader App or VitalSource Bookshelf App are needed for many of our courses (No special equipment needed. This can be downloaded for FREE onto your computer.)
PowerPoint Viewer (if you do not have PowerPoint)
Adobe PDF Reader
Apple QuickTime Media Player