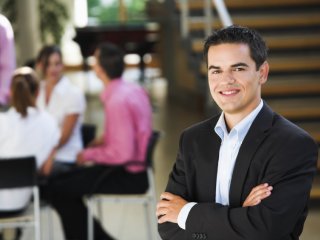 Description
Objectives
Outline
Materials
System Requirements
Watch a Demo
In today's competitive hospitality market, understanding sales and marketing is essential to succeed in the hospitality business. Our Hospitality Sales and Marketing course provides an in-depth look at established marketing themes unique to the hospitality world. The content draws upon practical experiences and new trends related to customer relationship management, advertising, social media, and technology. This course explores customer behavior, market segments, pricing strategies, selling techniques, and ways sales professionals can tailor their approach to the buyer's unique perception of value. 
Prerequisite(s): None
After completing this course, you should be able to:
Identify the concepts of the marketing mix, sustainability, and market segmentation
Recall the importance of developing a concrete marketing plan and pricing strategy
Recognize how to effectively develop, plan, and manage products
Recall the basics of supply chain management and e-commerce
Identify the importance of communication in sales, social media, public relations, and personal selling techniques
Hospitality Sales and Marketing Module 1
Introduction to Hospitality Marketing and Sustainability
The Marketing Mix
Services Marketing
Destination Marketing
Service Trends Affecting the Hospitality & Tourism Industry
External Environment
Sustainable Development
Managing for Sustainability
Hospitality Sales and Marketing Module 2
Hospitality Consumers and Market Segmentation 
Consumer Decision-Making Model
Consumer Problem-Solving Processes
Consumer Problem-Solving Techniques
Organizational Buyer Behavior
Segmentation Variables
Market Segmentation Strategies
Positioning the Product-Service Mix
Hospitality Sales and Marketing Module 3
Developing a Marketing Plan
Marketing Plans
Strategic Marketing
Tactical Marketing
Marketing Planning Process
Sales Forecasting
Quantitative Forecasting Techniques
Hospitality Sales and Marketing Module 4
Marketing Decisions and Pricing Strategy 
Sources of Marketing Information
Marketing Research Process
Destination Research
Ethical Issues in Marketing Research
Factors that Affect Pricing Decisions
Broad Pricing Strategies
Pricing Techniques & Procedures
Segmented Pricing
Revenue Management
Pricing Law & Ethics
Hospitality Sales and Marketing Module 5
Developing and Managing New Products/Services
Planning for New Products
Organizing for New Product Planning
New Product Development Process
Identifying Products and Services
Destination Product Development
Product Life Cycle
Resource Allocation Models and Applications
Managing in the Service Environment
Techniques to Assess Customer Satisfaction
Hospitality Sales and Marketing Module 6
Supply Chain Management and Electronic Commerce
Distribution Strategy
Channel Management
Franchising
Electronic Commerce Strategy
Internet Strategies
Search Engine Optimization
Hospitality Sales and Marketing Module 7
Marketing Communications, Advertising, and Social Media 
Managing the Promotion Mix
Managing the Advertising Function
Planning & Evaluating Advertising Campaigns
Criticisms of Advertising
Developing Media Plans
Print Media
Broadcast Media
Direct Mail
Support Media
Social Media
Hospitality Sales and Marketing Module 8
Sales Promotions, Public Relations, and Personal Selling 
Types of Sales Promotions
Push and Pull Promotions
Merchandising
Selling to Group Markets
Personal Selling Process
Personal Selling Tools
Ethical Issues in Personal Selling
**Outlines are subject to change, as courses and materials are updated.**
Ed4Career is committed to being both environmentally conscious and making it easier for you to study! We're making your education mobile! All of our textbooks are now provided as eTextbooks. You can access them on your laptop, tablet, or mobile device and can study anytime, anywhere.
The move away from physical books to eTextbooks means you get the latest, most up-to-date version available. This also makes your training more accessible, so you can study anywhere you have your phone or tablet. The best part is that all materials are included in your training cost so there are NO extra fees for books!
Internet Connection
Broadband or High-Speed - DSL, Cable, and Wireless Connections
*Dial-Up internet connections will result in a diminished online experience. Classroom pages may load slowly and viewing large audio and video files may not be possible.
Hardware Requirements
Processor - 2GHz Processor or Higher
Memory - 1 GB RAM Minimum Recommended
PC Software Requirements
Operating Systems - Windows 7 or higher
Microsoft Office 2013 or higher. Also, you could use a general Word Processing application to save and open Microsoft Office formats (.doc, .docx, .xls, .xlsx, .ppt, .pptx)
Internet Browsers - Google Chrome is highly recommended


Cookies MUST be enabled
Pop-ups MUST be allowed (Pop-up Blocker disabled)

The Kindle Reader App or VitalSource Bookshelf App are needed for many of our courses (No special equipment needed. This can be downloaded for FREE onto your computer.)
PowerPoint Viewer (if you do not have PowerPoint)
QuickTime, Windows Media Player &/or Real Player
MAC Software Requirements
Operating Systems - Mac OS x 10 or higher with Windows
Mac office programs or a Word Processing application to save and open Microsoft Office formats (.doc, .docx, .xls, .xlsx, .ppt, .pptx)
Internet Browsers- Google Chrome is highly recommended


Cookies MUST be enabled
Pop-ups MUST be allowed (Pop-up Blocker disabled)

The Kindle Reader App or VitalSource Bookshelf App are needed for many of our courses (No special equipment needed. This can be downloaded for FREE onto your computer.)
PowerPoint Viewer (if you do not have PowerPoint)
Adobe PDF Reader
Apple QuickTime Media Player