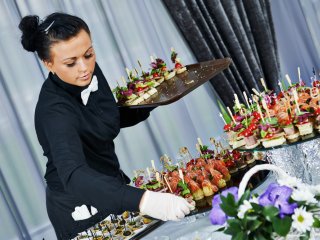 Description
Objectives
Outline
Materials
Certification
System Requirements
Watch a Demo
An event planner is, most simply, someone who organizes an event. Any time people meet for a purpose, whether it is for a wedding, a conference, or the grand opening of a new store, someone is needed to supervise all the details to guarantee the event happens and that it is a success.  Our Event Planning Professional program can help you become that person. 
Event Planning & Management
Event planners need professional caliber information that explains everything from how to decorate, to the use of technology, and everything in between. In this course you will learn that information and much more. It is through planned events that we remember our shared history, our friends, family, and community.
We include information on greener events, corporate social responsibility, international best practices, and the expanding event field. You will also learn how technology, including the use of social media, may be harnessed to improve the financial, environmental, and other strategic outcomes of a special event.
Prerequisite(s): None
Wedding Consultant
Weddings are a joyous occasion: the bride is glowing with joy, the groom is beaming with pride and all the guests and family are delighted with the occasion. Planning wedding events takes a lot of organization and vision. Many couples get overwhelmed with wedding planning and often rely on a trained wedding planner to help them make their important day as special as possible. The duties of a wedding consultant can vary, but often include helping the happy couple with their wedding ceremony and reception by helping to choose wedding cakes, reception sites, flowers, invitations, and much more!
Prerequisite(s): None
Start Your Own Business
Have you ever eaten a Mrs. Fields cookie? Used a MacBook? Listed to a podcast? Entrepreneurs brought these products to your world. People that start their own businesses and work for themselves are called entrepreneurs. For an entrepreneur the sky is the limit as far as earnings and potential success. An entrepreneur is someone who has recognized an opportunity to start a business that other people may not have noticed. Entrepreneurs can shape and create an opportunity where others see little or nothing -- or see it too early or too late. Our Start Your Own Business course will help you create the business you want. Throughout this course you will be working on your business plan and creating a quick comprehensive overview of the elements you want in your new business.
Prerequisite: None
Event Planning & Management
After completing this course, you should be able to:
Define the principles of event leadership
Recognize the steps for planning an event budget, working with vendors and necessary time management skills
Differentiate between types of virtual and live events, venues, seating arrangements and audio and visual effects
Identify various design approaches and how to implement them
Recall types of design elements, materials and models of presentation
Wedding Consultant
After completing this course, you should be able to:
Identify techniques for planning a wedding ceremony
List the steps between engagement and the wedding day
Define the elements involved in the wedding consulting business
Recall techniques for marketing and determining fees and service
Recognize basic wedding elements of being a wedding consultant
Start Your Own Business
After completing this course, you should be able to:
Define entrepreneurship
List the steps for developing a business plan
Recall methods for marketing your business
Recognize the concepts behind financing strategies
Differentiate between potential strategies for growing your business
Event Planning & Management
Event Planning and Management Module 1
Sustainable Events
Anthropological and Sociological Origins
Growth Opportunities
Public Relations
Global Business
The Event Planning Profession
Project Management Systems for Event Leaders
Executing the Event Plan
Corporate Social Responsibility (CSR)
Event Planning and Management Module 2
Event Leadership and Human Resources
Keeping Sustainability in Mind
Five Senses
Identifying Needs of Your Guests
Securing the Environment
Entrances, Pre-Function, and Reception Areas
Themed Events
Leadership Styles
Human Resource Management
Developing Policies, Procedures, and Practices
Event Planning and Management Module 3
Financial Leadership and Vendors
Budgeting
Producing Profit
Controlling and Reducing Costs
Ensuring Positive Event Cash Flow
Accounts Payable
Common Event Financial Challenges
Contracting Your Vendor Partners
On-Site Coordination
Catering Management
Coordinating Technical Production
Event Planning and Management Module 4
Marketing and Risk Management
The 5 Ps of Marketing
Internal vs. External Event Marketing
Event Promotion Techniques
Internet Marketing for Events
Web Design and Management
Risk-Averse Procedures
Differences Among Morals, Laws and Ethics
Future Trends in CSR
Complying with the Americans with Disabilities Act
Why is CSR Important in the Special Events Industry?
Event Planning and Management Module 5
Virtual Events and Career Growth
Virtual vs. Live
Distance or Blending Learning?
Creating New Revenue
Tracking and Encouraging the Progress of Leaders
Marketing Online vs. Virtual Events
Environmental Sustainability
Your First Five Steps to Creating Sustainable Events
Cultural Sustainability
Local Economies
Promoting Your Greener Event
Event Planning and Management Module 6
Venues and Staging
What is a Corporate Event?
Who Attends a Corporate Event?
History and Future of Corporate Events
Types of Venus Site Surveys
Common Venue Oversights
Selecting a Venue
Why is Staging Needed?
Types of Staging
Stage Configuration
Choosing the Best Stage for Your Event
Event Planning and Management Module 7
Seating, Rigging, Lighting and Video
Types of Chairs and Tables
Estimating Seating Capacity
Choosing the Best Seating Configurations
The Basics of Rigging
Rigging Equipment
Rigging Points
Elements of Light
Gobos
Three-Point Lighting
Video Cameras and Controls
Event Planning and Management Module 8
Audio, Speakers and Design Teams
Why Are Audio Systems Needed?
Parts of a Sound System
Types of Microphones and Speakers
Preparation Spaces
Presentation Management
The Value of Rehearsals
The Proposal Response Process
Advantages and Disadvantages of Freelance and Corporate Design Teams
Differences Between Freelance and Corporate
Roles within an Event Design Team
Event Planning and Management Module 9
Developing a Design
Drafting Software
Venue Floor Plans
Creating a Working Floor Plan
Fundamentals of Design
A Designer's Toolkit
Transforming Data into Design Research
Using Your Design Palette
Areas of Focus
Design Approaches
Common Scenic Styles for the Corporate Event World
Event Planning and Management Module 10
Environment Design, Materials and Presenting
Providing Directions
Providing Atmosphere
Scenic Materials and Construction
Scenic Painting
Adding Finishing Touches
How Scenic Concepts are Presented
Illustration Styles
Effective Presentation Models
The Order of Your Presentation
**Outlines are subject to change, as courses are always under improvement for your benefit**
Wedding Consultant
Wedding Consultant Module 1
The Ceremony Planner
Setting the Tone for the Wedding
Taking Charge of the Wedding
Choosing an Official
Deciding Who will Participate
Planning the Ceremony Location
The Wedding Program
The Wedding Rehearsal
The Ceremony Text
Incorporating Personal Beliefs
Checklists and Worksheets
Wedding Consultant Module 2
Wedding Vows and Traditions
Envisioning Your Event
The Budget, When and Where and Guest List
Transforming Your Space
Flowers, Photography, Music
The Dress and All the Rest
A Rousing Reception
The Invitation Suite and Cake
Favors and Welcome Gifts
The Other Parties
The Day of. . . in Detail
Wedding Consultant Module 3
The Wedding Consultant Business
Characteristics of a Successful Bridal Consultant
The Role of the Consultant
Wedding Day Duties
Consulting Services and Fees
Developing Your Market
Writing a Mission Statement
Building the Foundations of Your Business
Writing a Business Plan
Legal Issues
The Cost of Doing Business
Developing a Vendor Network
Marketing Your Business
Using the Internet
Tracking Your Finances
Wedding Consultant Module 4
The Portable Wedding Consultant
Accessories, Attendants, Attire
The Ceremony Itself
Divorced parents
Finances, Flowers, Guest Lists
Invitations, Honeymoon
Kids at Weddings
Music and Photography
Hair and Makeup
Rehearsals, Gifts, the Reception
Showers, Rings, Thank You Notes
Traditions, Transportation
Tuxedos, Wedding Gowns
Videography
Wedding Cakes
**Outlines are subject to change, as courses and materials are updated.**
Start Your Own Business
Start Your Own Business Module 1
Entrepreneurs and Entrepreneurship
Defining Entrepreneurship
Free-Enterprise System
What is a Small Business?
Paths to Enterprise Ownership
Benefits and Costs of Becoming an Entrepreneur
Lean Startup Methodology
What is a Business Plan?
Business Plan Components
Start Your Own Business Module 2
Creating Business and Exploring Your Market
What Defines a Business?
Business Opportunity Decision Process
Your Competitive Advantage
Determining the Value of a Business
Product Life Cycle
Customer Research
Segment and Industry Research
Market Positioning
Start Your Own Business Module 3
Marketing Mix and Smart Selling
The Marketing Mix
Product, Price, Place, Promotion
Advertising and Sales Promotion
Publicity Potential
Developing a Marketing Plan
Sales Call
Creating a Sales Force
Customer Relationship Management Systems
Start Your Own Business Module 4
Costs and Financial Statements
Start-Up Investment
Estimate Value
Fixed and Variable Costs
Calculating Critical Costs
Income Statements
The Balance Sheet
Financial Ratio Analysis
Balance Sheet Analysis
Start Your Own Business Module 5
Cash Flow, Taxes, and Financing Strategies
Cash Flow
Working Capital Cycle
Using a Cash Flow Statement
Capital Budgeting
Gifts and Grants
Debit and Equity Financing
Investing
Start Your Own Business Module 6
Legal Issues and Operating for Success
Business Legal Structures
Contracts
Commercial Law
Intellectual Property
Protecting Tangible Assets
Licenses, Permits, and Certificates
Production-Distribution Chain
Supply Chain Management
Defining Quality
Start Your Own Business Module 7
Management, Leadership, Financing, Licensing
The Entrepreneur as Leader
Business Management
Creating and Managing Organizational Culture
Ethical Leadership
Social Responsibility and Ethics
Focus Your Brand
Harvesting and Exiting Options
Creating Wealth by Selling a Profitable Business
**Outlines are subject to change, as courses and materials are updated.**
Ed4Career is committed to being both environmentally conscious and making it easier for you to study! We're making your education mobile! All of our textbooks are now provided as eTextbooks*. You can access them on your laptop, tablet, or mobile device and can study anytime, anywhere.
The move away from physical books to eTextbooks means you get the latest, most up-to-date version available. This also makes your training more accessible, so you can study anywhere you have your phone or tablet. The best part is that all materials are included in your training cost so there are NO extra fees for books!**
*A few courses still have physical materials.
 
Event Planning & Management
Upon successful completion of our Event Planning and Management course, students will be prepared for an entry-level job in the Event Planning industry and to sit for the NCCB national certification exam to become a Certified Event Planning Specialist (CEPS).
Wedding Consultant
Upon successful completion of our Wedding Consultant course, students will be prepared to sit for the NCCB national certification exam to become a Certified Wedding Planning Professional (CWPP).
** Certification exams are not included in the cost of the course.**
Internet Connection
Broadband or High-Speed - DSL, Cable, and Wireless Connections
*Dial-Up internet connections will result in a diminished online experience. Classroom pages may load slowly and viewing large audio and video files may not be possible.
Hardware Requirements
Processor - 2GHz Processor or Higher
Memory - 1 GB RAM Minimum Recommended
PC Software Requirements
Operating Systems - Windows 7 or higher
Microsoft Office 2013 or higher. Also, you could use a general Word Processing application to save and open Microsoft Office formats (.doc, .docx, .xls, .xlsx, .ppt, .pptx)
Internet Browsers - Google Chrome is highly recommended

Cookies MUST be enabled
Pop-ups MUST be allowed (Pop-up Blocker disabled)

The Kindle Reader App or VitalSource Bookshelf App are needed for many of our courses (No special equipment needed. This can be downloaded for FREE onto your computer.)
PowerPoint Viewer (if you do not have PowerPoint)
QuickTime, Windows Media Player &/or Real Player
MAC Software Requirements
Operating Systems - Mac OS x 10 or higher with Windows
Mac office programs or a Word Processing application to save and open Microsoft Office formats (.doc, .docx, .xls, .xlsx, .ppt, .pptx)
Internet Browsers- Google Chrome is highly recommended

Cookies MUST be enabled
Pop-ups MUST be allowed (Pop-up Blocker disabled)

The Kindle Reader App or VitalSource Bookshelf App are needed for many of our courses (No special equipment needed. This can be downloaded for FREE onto your computer.)
PowerPoint Viewer (if you do not have PowerPoint)
Adobe PDF Reader
Apple QuickTime Media Player