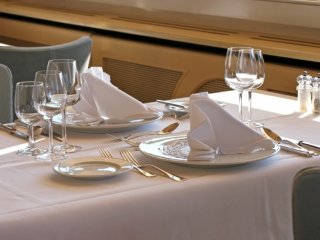 Description
Objectives
Outline
Materials
Approvals
System Requirements
Watch a Demo
The Dining Room Business Management program is ideal for a student who wants a career in hospitality management with a focus on business. In addition to learning the service facets of the business, students will also learn about management matters that are essential to any organization and how to manage through relationship-building to bring out the very best in all employees. 
Dining Room & Banquet Management
This Dining Room & Banquet Management course is ideal for a student that wants to move into hospitality management. Its emphasis is on the service aspects of a business that will distinguish an outstanding dining experience. The course includes the history of dining room and banquet service, the proper techniques of service, sanitation requirements, and important merchandising concepts. In addition, information about reservations, priority seating, and reservations systems is also included.
Prerequisite(s): None
Business Management
The principles and practices of management are fundamental to any organization. Good management is important in starting a business, growing a business, and maintaining a business once it has achieved some measure of success. This Business Management course introduces you to the four essential functions of successfully managing a company, employees, and assets: planning, organizing, leading, and controlling.
Prerequisite: None
Leadership & Goal Attainment
Looking for ways to make your company great, motivate your employees, and grow profits? Then Leadership & Goal Attainment is the course for you. In the first part of this course you will learn how relational leadership is not just a theory or a buzzword, but a way of managing through relationship-building to bring out the very best in one's employees. You will see how some executives succeeded where others failed and take advantage of those lessons of success to create your own.
Why do some genius-level leaders seem to drain intelligence and performance out of the people around them, while others stimulate, motivate, and get so much more out of their work associates? The second part of this course uses Liz Wiseman's book to label the former group, people who need to be the smartest person in the room, as diminishers, while the latter are multipliers, people who use their smarts to stimulate and enhance the creativity of the group. This section of the course identifies what is considered the five most important disciplines that help managers to think and act more like multipliers, bringing people together, and giving others on the team more freedom, power, and responsibility, which ultimately generates self-worth and satisfaction.
The third part of this Leadership & Goal Attainment course will help you with setting and achieving your goals. While it can be difficult to set truly meaningful and motivational goals, it is one of the most essential steps to business success. Even more importantly, setting, working toward and achieving measurable goals is how we all grow personally while contributing to organizational success.
Prerequisite: None
Dining Room & Banquet Management
After completing this course, you should be able to:
Define principles for dining service, sanitation, and presentation
Identify guidelines and various styles of serving
Recall training and managing needs of service personnel
Identify the steps for managing the dining experience for guests
List the principles for banquet business management
Business Management
After completing this course, you should be able to:
Recognize the history of management, managerial roles, and organizational environments and responsibilities
Recall various planning and organizational strategies
List methods for how to incorporate innovation and build strategies for global management
Recall methods of communication, working in groups and stages of leadership
List ways to manage information, services, and operations
Leadership & Goal Attainment
After completing this course, you should be able to:
List the strategies for becoming a multiplier
Identify the types of leaders and the effects they have on the workforce
Recall the steps involved in creating an enjoyable and effective workplace
Recognize the process for effectively setting and achieving goals
Recall the core elements of relationship leadership
Dining Room & Banquet Management
Dining Room & Banquet Management Module 1
Principles of Remarkable Service
Hospitality
Service
Combining Hospitality and Service Skills
Personal Qualities of a Server
Styles of Service
History of Table Service
Dining Room Brigade
House Style
Restaurant Types
Dining Room & Banquet Management Module 2
Preparing and Maintaining the Dining Room
Cleanliness
Preparing Serviceware
Food Safety
Personal Safety
Fire Safety
Arranging Tables and Chairs
Preparing Wares for Service
Setting the Table
Ambience
Personal Mise en Place
Dining Room & Banquet Management Module 3
Reservations, Waiting Lists and Serving Guests
When Reservations Might Be Necessary
Special Requests
Waiting Lists
Soft Skills
Steps of Service
Table Maintenance
Check Presentation and Payment
Resetting the Table
Handling Complaints
Dining Room & Banquet Management Module 4
Beverage and Wine Service
Water
Cocktails
Spirits 101
Beer
Responsible Beverage Service
Coffee and Tea
Styles of Wine
Wine Labels
The Wine Menu
Taking the Wine Order
Dining Room & Banquet Management Module 5
Banquet Service and Remarkable Interactions
Banquets and Special Events
Arranging the Room and Tables
Bar Service for Banquets
Styles of Banquet Service
Why Focus on the Guest?
Creating a Service-Oriented Organizational Culture
Training
Motivating
Leading
Dining Room & Banquet Management Module 6
Planning for Banquets
Earliest Banquets: Greeks and Romans
Banquets in Medieval and Renaissance Europe
Banquets in the 1700s and 1800s
Banquets in the Victorian and Edwardian Eras
Today's Banquets
Creating a Timeline and List of Priorities
Rental vs. Ownership
Tents, Bars, Tables and Chairs
Serviceware
Tableware
Dining Room & Banquet Management Module 7
Service Styles and Techniques for Banquets
Tabletop and Service Items for Seated Service
Setting the Banquet Cover
Setting Buffet Tables
Pantry
Staging/Plating Area
Dish and Linen Drop-off
Styles of Service
Carrying Plates
Serving from Platters and Trays
Dining Room & Banquet Management Module 8
Service for Banquets
Guests' Arrival
Reception or Cocktail Hour
Coordinating Seated Service and Buffet
Sequence of Service
Table Maintenance
Theme Buffets
Weddings
Bar/Bat Mitzvahs
Business Lunch
Fundraising Dinner
Dining Room & Banquet Management Module 9
Beverages and Special Events
Water and Hot Beverage Service
Beer and Wine
Types of Bars
Bar Service
Emergency Kit
Issues with Rented Items
Flipping the Room
Managing Ancillaries
Guest Issues and Comfort
**Outlines are subject to change, as courses and materials are updated.**
Business Management
Business Management Module 1
History of Management
Management Functions
Managerial Roles
Kinds of Managers
Mistakes Managers Make
Origins of Management
Scientific Management
Bureaucratic and Administrative Management
Human Relations Management
Business Management Module 2
Organizational Environments and Responsibilities
Changing Environments
General Environment
Specific Environment
Organizational Cultures
Workplace Deviance
Influences on Ethical Decision Making
To Whom Are Organizations Socially Responsible?
Social Responsibility and Economic Performance
Business Management Module 3
Planning and Organizational Strategy
Benefits and Pitfalls of Planning
How to Make a Plan That Works
Steps and Limits to Rational Decision Making
Sustainable Competitive Advantage
Strategy-Making Process
Corporate & Industry Level Strategies
Firm-Level Strategies
Business Management Module 4
Innovation and Global Management
Why Innovation Matters
Managing Innovation
Managing Change
Global Business, Trade Rules, and Trade Agreements
Forms for Global Business
Finding the Best Business Climate
Becoming Aware of Cultural Differences
Business Management Module 5
Designing Adaptive Organizations and Managing Teams
Departmentalization
Organizational Authority
Job Design
Interorganizational & Interorganizational Processes
The Good & Bad of Using Teams
Kinds of Teams
Work Team Characteristics
Enhancing Work Team Effectiveness
Business Management Module 6
Human Resource Systems, Individuals and Diverse Workforce
Employment Legislation
Recruiting
Selecting
Training
Performance Appraisal
Compensation & Employee Separation
Surface-Level Diversity
Deep-Level Diversity
Managing Diversity
Business Management Module 7
Motivation and Leadership
Basics of Motivation
Equity Theory
Expectancy, Reinforcement, & Goal-Setting Theories
Leaders Vs. Managers
Who Leaders Are and What Leaders Do
Path-Goal Theory
Normative Decision Theory
Visionary Leadership
Business Management Module 8
Managing Communication and Control
Perception and Communication Problems
Kinds of Communication
Managing One-on-One Communication
Managing Organization Wide Communication
The Control Process
Control Methods
What to Control?
Business Management Module 9
Managing Information, Service, and Operations
Strategic Importance of Information
Characteristics and Costs of Useful Information
Capturing, Processing, and Protecting Information
Accessing and Sharing Information and Knowledge
Productivity
Quality
Service Operations
Manufacturing Operations
Inventory

**Outlines are subject to change, as courses and materials are updated.**
Leadership & Goal Attainment
Leadership & Goal Attainment Module 1
Relational Leadership
Overview of the Relational Model
Comparing Leadership Styles
Enhancing Your Personal Leadership
Exploring and Assessing the Basic Framework
Assessment, Compromise, and Focus as Leadership Traits
In-Depth View of the Relational Leadership Model
Understanding the Core Elements
Key Components of a Relational Organization
Shifting from Non-Relational to Relational Leadership
Adopting a New Style for Dealing with People
The Critical Role as Leader
Preserving the Organization's Environment
Leadership & Goal Attainment Module 2
Developing as a Leader
Apply Discipline
Execute Winning Activities
Avoid Shortcuts
Manage Risk
The Power of Leadership
Building on Strengths
Applying Your Self-Knowledge
Creating a Great Place to Work
The Building Blocks of Trust
Make Stress a Positive Force
The Value of Relationalism
Community Leadership
The Relational Leader at Home
Leadership & Goal Attainment Module 3
Multiplier versus Diminishers
The Multiplier Effect
Resource Leveraging
The High Cost of Diminishers
The Mind of the Multiplier
The Five Disciplines of the Multiplier
The Talent Magnet
Four Practices of the Talent Magnet
The Diminishers' Approach
The Liberator
Tyrant versus Liberator
Three Practices of the Liberator
The Challenger
The Know-it-All versus the Challenger
Leadership & Goal Attainment Module 4
Becoming a Multiplier
The Debate Maker
Practices of the Debate Maker
Debate Making as Resource Leverage
The Investor
The Micromanager versus the Investor
The Diminishers' Approach to Execution
Leveraging Your Investment
Becoming a Multiplier
From Resonance to Resolve
The Accelerators
Sustaining Momentum
Genius or Genius Maker
Leadership & Goal Attainment Module 5
Goals and Goal Setting
What is a Goal?
Goals & Objectives Pyramids
Who Sets Goals?
The Goal Setting Process
Adopt & Adapt the Goal
Identifying and Documenting Goals
Writing S.M.A.R.T. Goals
Goal Development and Planning
Action Plans
Obstacles to Goal Attainment
Goal Achievement
Taking Action
**Outlines are subject to change, as courses and materials are updated.**
Ed4Career is committed to being both environmentally conscious and making it easier for you to study! We're making your education mobile! All of our textbooks are now provided as eTextbooks*. You can access them on your laptop, tablet, or mobile device and can study anytime, anywhere.
The move away from physical books to eTextbooks means you get the latest, most up-to-date version available. This also makes your training more accessible, so you can study anywhere you have your phone or tablet. The best part is that all materials are included in your training cost so there are NO extra fees for books!**
*A few courses still have physical materials.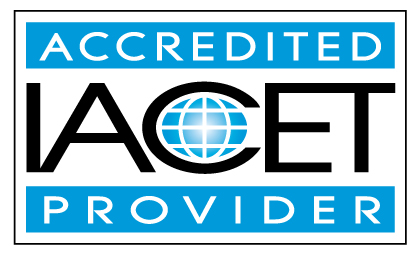 Ed4Career has been approved as an Accredited Provider by the International Association for Continuing Education and Training (IACET). In obtaining this accreditation, Ed4Career has demonstrated that it complies with the ANSI/IACET Standard which is recognized internationally as a standard of good practice. As a result of the Accredited Provider status, Ed4Career is authorized to offer IACET CEUs for courses and programs that qualify under the ANSI/IACET Standard.
The Continuing Education Unit (CEU) was created by IACET as a measurement of continuing education. One (1) IACET CEU is equal to ten (10) contact hours of participation in an organized continuing education experience under responsible sponsorship, capable direction, and qualified instruction. Under IACET's care, the IACET CEU has evolved from a quantitative measure to a hallmark of quality training and instruction. For more information on IACET, visit www.iacet.org.
Internet Connection
Broadband or High-Speed - DSL, Cable, and Wireless Connections
*Dial-Up internet connections will result in a diminished online experience. Classroom pages may load slowly and viewing large audio and video files may not be possible.
Hardware Requirements
Processor - 2GHz Processor or Higher
Memory - 1 GB RAM Minimum Recommended
PC Software Requirements
Operating Systems - Windows 7 or higher
Microsoft Office 2013 or higher. Also, you could use a general Word Processing application to save and open Microsoft Office formats (.doc, .docx, .xls, .xlsx, .ppt, .pptx)
Internet Browsers - Google Chrome is highly recommended

Cookies MUST be enabled
Pop-ups MUST be allowed (Pop-up Blocker disabled)

The Kindle Reader App or VitalSource Bookshelf App are needed for many of our courses (No special equipment needed. This can be downloaded for FREE onto your computer.)
PowerPoint Viewer (if you do not have PowerPoint)
QuickTime, Windows Media Player &/or Real Player
MAC Software Requirements
Operating Systems - Mac OS x 10 or higher with Windows
Mac office programs or a Word Processing application to save and open Microsoft Office formats (.doc, .docx, .xls, .xlsx, .ppt, .pptx)
Internet Browsers- Google Chrome is highly recommended

Cookies MUST be enabled
Pop-ups MUST be allowed (Pop-up Blocker disabled)

The Kindle Reader App or VitalSource Bookshelf App are needed for many of our courses (No special equipment needed. This can be downloaded for FREE onto your computer.)
PowerPoint Viewer (if you do not have PowerPoint)
Adobe PDF Reader
Apple QuickTime Media Player